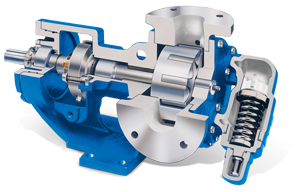 Internal gear pumps are versatile pieces of rotating equipment. They're great for highly viscous fluids and have only two moving parts. A maintenance technician's dream! But, one day, your internal gear pump stops performing its day-to-day function and all heck breaks loose! But before you trash it, understand the root cause of the failure so you can be sure the next pump doesn't meet the same demise.
All too often, blame is placed on the pump because it's the pump itself that's noisy and vibrating. What you should remember is the pump may not be at fault. It's important to get all the facts, as system changes can have major effects on pump performance.
Develop a Clear, Concise, and Objective Statement of the Problem
When troubleshooting an internal gear pump (or any other pump for that matter), develop a clear, concise, and objective statement of the problem. Try to set preconceived ideas of what could be wrong aside and base your statement on facts that are accurate and unbiased.
Start by compiling all of the information you have about the pump, such as:
Field Measurements


Pressure

Flow

Power draw

Temperature

Pump vibration levels

Instruction manuals



Basic Pump Information
Determine if the Problem is Hydraulic or Mechanical
Using the information you've collected, determine if your problem is hydraulic or mechanical.

A hydraulic problem has the following symptoms:
No liquid delivered

Insufficient capacity delivered

Insufficient pressure delivered

Intermittent flow
A mechanical problem exhibits these symptoms:
Bearings have regular failures/run hot

Higher than normal vibration levels

Pump consumes excessive energy

Short packing life

Wetted parts wear quickly
Investigate What May Be Causing Poor Pump Performance
Once you've determined if your issue is mechanical or hydraulic, use the chart below to determine what could be causing your internal gear pump to perform poorly. You may just find that it wasn't the pump's fault after all.
Internal_Gear_Pump_Symptom_Checklist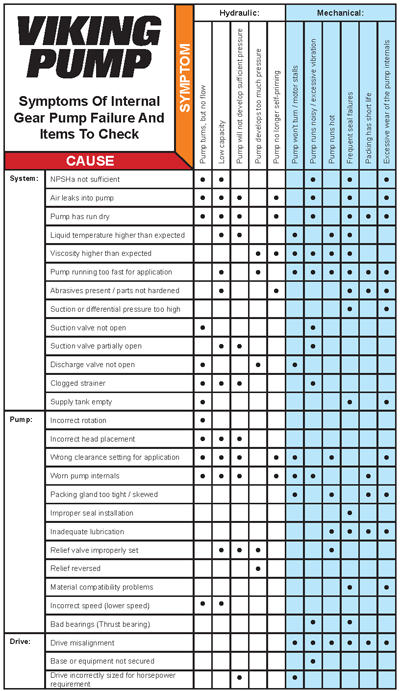 For more information about internal gear pumps, check out a previous post, The Quick and Dirty Guide to Internal Gear Pumps.
Still having problems with an internal gear pump? Contact us! We're happy to provide assistance to businesses in Wisconsin and Upper Michigan.