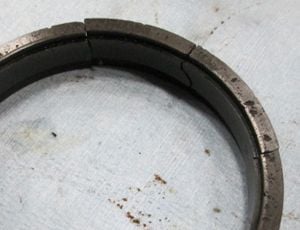 You might be asking yourself, "why are my seals failing so fast, and how can I prevent this from happening?" This topic rings true among operators and engineers in plants of all sizes and industries. Oftentimes, a mechanical seal is a "barometer" for the pump, helping maintenance and operators to understand the health of the pump on which it's installed. Other times, failure is a result of poor selection or installation errors. Here are 6 of the most common reasons mechanical seals can fail.

ALLOWING THE PUMP TO RUN DRY

Allowing your pump to run dry can be very damaging to a mechanical seal. Under the right conditions, mechanical seals can experience thermal shock and shatter within 30 seconds or less.
VIBRATION

Pump vibration is caused by pump imbalance, improper alignment, operating the pump too far to the right or left of the BEP (Best Efficiency Point) on the performance curve, etc. Vibration hurts your equipment and can result in damaged seals and shortened seal life.
HAMMERING COUPLINGS ONTO THE SHAFT

When it comes to pumps, hammers are not friends! Mechanical seal faces can be very fragile. Pounding couplings onto the shaft will damage the mechanical seal.
OPERATOR ERROR

Skipping initial start-up procedures and installation errors are a big factor when it comes to mechanical seal failure. Improperly starting the pump can cause the motor to trip and the shaft to twist causing orbital movement, resulting in internal parts contact, seal failure, and shortened bearing life. Improperly installing the mechanical seal will cause damage to elastomers (o-rings or boots), along with a wide variety of other issues, as pictured to the right. Mechanical seals can be very sensitive because the faces are incredibly flat. Even a small amount of dirt or oil, even fingerprints, can cause the faces not to align.

IMPROPER USE OF, OR COMPLETELY OMITTING MECHANICAL SEAL FLUSH PLANS

It's critical that a mechanical seal flush plan is properly in place. No mechanical seal recommendation is complete without a coordinating flush plan. Be Aware: if no flush plan exists, dewatered product and contaminates can build up, causing excessive heat or erosion on the seal, resulting in shortened seal life.


SELECTING THE WRONG MECHANI­CAL SEAL OR MATERIALS

Lack of knowledge and information accounts for the majority of mechani­cal seal installation errors. Consider normal operating conditions, potential for off-design excursions and non-process activities, such as cleaning, steaming, acid and caustic flushes. The picture to the right is an example of poor material choice for an abrasive liquid.
Tom Borrino, Regional Engineer for John Crane, recommends that if you're interested in reducing seal failures, take a look at all phases of equipment application – how is the sealed equipment specified, installation practices, all the way up to operations. Seals are very repeatable, so if you continue operating the same seal in the same manner, expect to see the same rate of failure. He further recommends to think about the seal in terms of its total lifetime costs – not so much by its initial cost. Start a reliability program that defines the cost of failure and justify it by increasing the seal's mean time between failures.
Look to your local seal supplier for help with seal selection, best operating practices, and seal flush plan recommendations. If you have specific questions, ask us about it! We gladly provide mechanical seal assistance to businesses in Wisconsin and Upper Michigan.
Read more about the reasons for pump and mechanical seal failure in our eBook, 36 Ways to Kill Your Pump. Download your copy today!