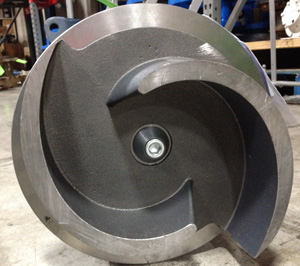 Whenever I need an entertaining story for a blog post, I know I can head out to our on-site service shop and talk to one of the guys out there. They've been in the business for a long time and are never short on stories to tell. Some are hilarious, some are down-right disgusting. Though their stories are entertaining, there's always something to be learned.
One of our service techs told me a story the other day. We sold a large solids handling pump, a Gorman Rupp T6, to a wastewater treatment facility. A few days later, the operator called and angrily explained, "The pump you sold me is a piece of junk! It's making all kinds of noise and jumping all over the place! Get out here and take care of this thing!"
So we did.
We sent a service technician to the wastewater treatment plant, and he watched as the operator turned on the pump. It surged to life, banging loudly, jumping and pulling at the bolts that kept it grounded. They shut it down immediately before it caused more damage to itself.
The service tech opened the pump and it took no time to identify the problem. A croquet ball had been lodged in the impeller vanes, causing a severe imbalance.
If you've downloaded our eBook, "36 Ways To Kill Your Pump", you know this is a classic example of Way #12 – Plugged Vanes or Balance Holes.
When solids are pulled into the pump that are too large for the pump's capacity, the pump experiences decreased performance, priming issues, impeller imbalance, and high vibration, resulting in bearing and seal failure.
The service technician checked over the pump to ensure everything was still operational, then re-assembled the pump. Luckily the issue was large enough to be noticed right away before serious damage could result.
What's the weirdest thing you've pulled from a pump or screen? Share in the comments below.
Have you got a problem pump? Ask us about it! We gladly provide service to businesses in Wisconsin and Upper Michigan.