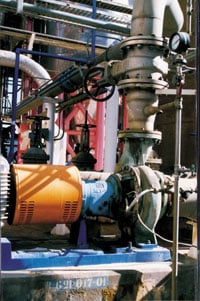 When a centrifugal pump stops delivering sufficient pressure, breaks down frequently, or vibrates at high levels, it's easy to blame the pump. Frequently system problems are misdiagnosed as pump problems because the pump is the one making the noise or underperforming. But to solve performance issues at the ground level, maintenance and engineering must take a look at the bigger picture.
A change in the system can have a major effect on the performance of your pumps. So before you assume the pump is to blame, make sure you have all the facts.
Develop a Clear, Concise, Objective Statement of the Problem
When troubleshooting centrifugal pumps, the first step is to develop a clear, concise and objective statement of the problem. Try to set preconceived ideas of what could be wrong aside. To properly diagnose the problem, base your statement on facts that are accurate and unbiased.
Use the resources available to you to gather as much information about the pump as possible:
Field Measurements

Pressure
Flow
Power draw
Temperature
Pump vibration levels
Performance curves
Instruction manuals

Basic pump information

Model
Size
Serial number
Impeller diameter
Determine if Problem is Hydraulic or Mechanical
Using the information you've collected, determine if your problem is hydraulic or mechanical. A hydraulic problem has the following symptoms:
No liquid delivered
Insufficient capacity delivered
Insufficient pressure delivered
Intermittent flow
A mechanical problem exhibits these symptoms:
Bearings have regular failures/run hot
Higher than normal vibration levels
Pump consumes excessive energy
Short packing life
Mechanical seals have high failure rate
Wetted parts wear quickly
Investigate What May Be Causing Poor Pump Performance
Once you've determined if your issue is mechanical or hydraulic, use the chart below to determine what could be causing your pump to perform poorly. You may just find that it wasn't the pump's fault after all.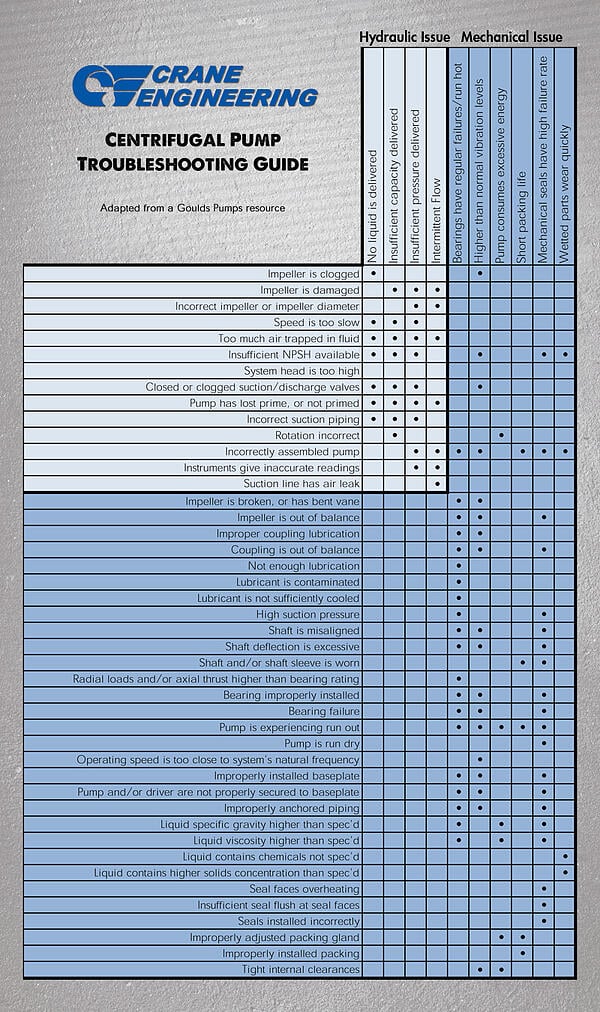 Have additional questions about what's going on with your system? Ask us about it! We gladly provide technical assistance to businesses in Wisconsin and upper Michigan.