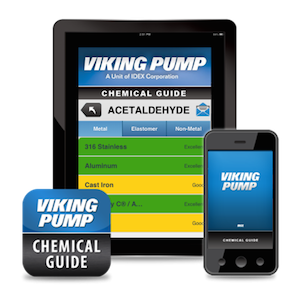 Are you looking for helpful tools & resources related to your pump, or a list of available service manuals, data sheets, and product brochures? The innovative team at SANDPIPER and Viking Pump have developed several resources with the end-user in mind and we want to get the word out! These 5 cutting edge resources are user-friendly, savvy, and down-right helpful!
1) Viking Pump Chemical Compatibility Guide
The Viking Pump Chemical Compatibility Guide provides a wealth of information on chemical compatibilities with various kinds of materials. This information ensures you are selecting the materials best suited for your application.
2) Viking Pump Selector
The Viking Pump Selector is a toolset designed to assist you in determining which Viking pumps meet your application requirements. Use this program to generate flow and power performance curves for specific pump models and applications, or use the toolset to build a listing of pumps that meet your requirements.
3) SANDPIPER Mobile App
QR Codes are located on the stainless steel tag of all SANDPIPER pumps manufactured after December 2012. The new SANDPIPER mobile application is designed to help you quickly and easily find the tools you need to support your pump by scanning the QR Code with your smartphone. Quickly locate information related to your specific pump using My Pump Details, instantly review the Chemical Compatibility Guide, conveniently flip through the latest full line catalogs, watch helpful service & training videos, and much more. See this app in action!
4) Marketing Resource Center (MRC)
Looking for SANDPIPER or Viking Pump service manuals, data sheets, or brochures? The Marketing Resource Center houses all of this information, plus much more. Preview each file as a PDF or flip book.
SANDPIPER Pump Marketing Resource Center
Viking Pump Marketing Resource Center
Product Catalog

Product Brochures

Warranty & Guarantee Documentation

Service Manuals & Data Sheets
5) SANDPIPER Blog
The new SANDPIPER Blog is where you will find links to news stories, articles, tips and facts all related to the AODD pump industry.
Have a question about SANDPIPER, Viking Pump, or a fluid application in general?
Our team has a great deal of experience with fluid applications and systems in a variety of industries. No matter what your question or problem, we can quickly recommend the most appropriate solution.