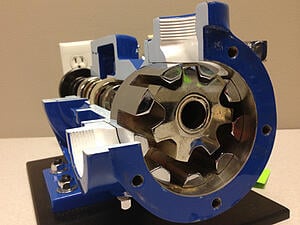 With the wide variety of pumps available today, it's sometimes hard to know which is best for your specific application. Which can handle the viscosity of the fluid? Generate the proper flow and pressure? To be certain you are getting exactly what you need, it's a good idea to consult an engineer well versed in pumps, but this post will give you a good understanding of the inner workings and characteristics of internal gear pumps so you can determine if they are a good fit for your application.
INTERNAL GEAR PUMP OVERVIEW


Internal gear pumps are very versatile, with the ability to pump many different types of fluids at a wide range of viscosities and temperatures. An internal gear pump uses two gears to move fluid. A rotor gear on the outside and a smaller, idler gear nested inside.
HOW IT WORKS

As the rotor (outer) gear turns, it drives the idler (inner) gear. When the idler gear comes out of contact with the rotor gear, liquid is drawn into the pump and travels along the casing to the discharge side of the pump where the gear teeth mesh back together and force the fluid out of the pump.
WHAT THEY'RE GREAT FOR

Internal gear pumps are ideal for high viscosity fluids. They're also great for situations where low NPSH is required. With only two moving parts, they're also pretty low maintenance.
WHAT THEY'RE NOT SO GREAT FOR

Internal gear pumps do not do well with large solids. Because they're made with small tolerances, large solids can easily damage the pump. They can handle some small suspended solids in abrasive fluids, but be advised that this can cause the pump to wear and lose performance.
THEIR BEST APPLICATIONS

This is just a short list of applications where internal gear pumps can be used.
Food products (corn syrup, oils, nut butters, chocolate)
Dairy products
Personal care products (pastes, creams, soaps)
Wide range of oils and lubricants
Paints, pigments, ink
Internal gear pumps are one of the most versatile pump types available. Make sure you get the right pump for the job by talking to an experienced engineer. If you need help selecting the right pump for your application, ask us about it! We gladly provide technical assistance to businesses in Wisconsin and Upper Michigan.