Manually cleaning weirs on clarifiers is common practice in many municipalities. But when Dan Buehler came on board as Wastewater Superintendent at the wastewater treatment plant in Port Washington, Wisconsin, he couldn't believe what he was seeing.
Request a consultation with one of our clarifier experts to learn about options for your aging clarifier.
Buehler's previous work experience was in the private sector, where safety historically has a heavy focus. But in the municipal world, there seems to be a much smaller focus on the subject. So when algae, grease, sludge and other materials would develop on the weirs of the clarifiers, the solution had always been to send a person to "walk the wall" with a brush, manually scrubbing them. Buehler recognized that if the worker would slip and fall into the clarifier, it could be a half hour before someone realized it, posing a very dangerous scenario.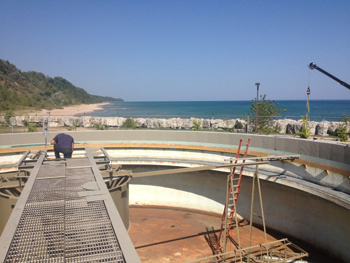 Buehler immediately implemented the role of a "safety watcher" to look out for the safety of the worker on the wall, but knew that this would be a temporary fix. There was still a high risk for worker injury. A day to a day and a half was needed to manually clean the weirs, as frequently as every three weeks in the summer. With two employees now dedicated to the job, a substantial amount of time was being lost.
While Buehler searched for a solution to his safety problem, some of the plant's employees mentioned that it may be time to look at the two clarifiers on site. Originally installed in the 1990s, they operated 24/7 for over 20 years. He agreed, knowing that during peak times, his two clarifiers, rated for just over 9.2 MGD, can experience capacities of 11+ MGD. A down clarifier could be disastrous for the plant.
Buehler asked Crane Engineering to look at the clarifiers. Crane gave them a thorough inspection, and measured the amount of wear that occurred. The measurement confirmed what Buehler had already suspected, that the bearings on the clarifiers were quite worn. It was then he decided to move forward with a clarifier rehabilitation project.
The two clarifier projects were put up for bid. Crane Engineering and another company bid on the project. They both submitted proposals to rebuild the clarifier drive and apply a coating system to the clarifier, but only Crane Engineering submitted a solution for Buehler's safety concerns.
Engineers at Crane proposed the use of a Weir Washer automated cleaning system that would use available non-potable plant water to remove the algae, and other debris, from the surfaces on the clarifier. The other firm provided no solution, siting they didn't believe there was an automatic system that would work as effectively as a manual cleaning.
Buehler would not waiver from his commitment to making the wastewater treatment plant a safer place to work, and he accepted Crane Engineering's bid.
Crane Engineering began work on the north clarifier in the summer of 2013. The drive was removed and sent to Crane Engineering's Service Center for repair, while the clarifier mechanisms and walls were sandblasted, coated, and restored to "like new" condition. The Weir Washer system was also installed, allowing effective cleaning without requiring anyone to "walk the wall". The work required no resources from Port Washington, and after about a month and a half, the turnkey clarifier rehabilitation was complete.
The following year, the same service was performed on the south clarifier.
As expected, by completing this project, Buehler was able to greatly reduce a safety risk to his employees, while also protecting some very key pieces of equipment. But the completion of the project also brought about some unexpected benefits as well.
Since the clarifiers were rehabilitated, he says the plant runs better. The underflow system is producing a more consistent sludge density, requiring less polymer on the thickening table. The more consistent sludge has also allowed them to slow the speed of their return activated sludge pumps, saving about $500 per month in electricity.
A better performing clarifier helps the plant run better overall, while electrical savings, peace of mind, and safer work environment are all side benefits to take into consideration. If the clarifier at your facility is getting up to 20 years old, or older, Buehler advises not to wait to do something. "You're money ahead by getting it done, especially with the Weir Washer equipment. Just one accident could possibly cost you as much as a clarifier rehab, many times over," he says.
Wondering how clarifier rehabilitation could improve your plant's performance? Ask for a clarifier consultation! We gladly provide technical assistance to wastewater treatment facilities in Wisconsin and upper Michigan.