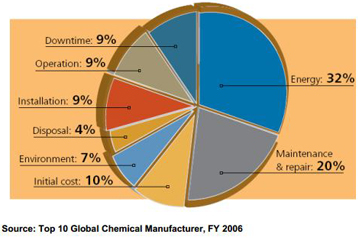 If you ask an operator what a pump really costs, their answer is usually the purchase price of the pump. But, over the life of the pump, energy consumption and maintenance costs account for more than 50% of a pump's total cost of ownership – the initial investment being just a small fraction.
If you're in a maintenance or engineering role, you're probably looking for innovative ways to reduce energy consumption, improve pump reliability, and minimize total cost of ownership (TCO).
But, where should you start? One of the first steps is to understand what causes pump inefficiency. This post discusses 6 reasons why your centrifugal pump may be inefficient.
THROTTLING FLOW BY USING A VALVE
To control pump flow rate, some choose to throttle it back by using a valve on the discharge side of the pump. This method is not recommended as it reduces the life of equipment, causing erosion inside the pump and possible bearing and mechanical seal failure; therefore increasing maintenance costs and TCO.
If you're controlling flow rate by throttling back on a valve, take a look at the equipment to make sure it's sized properly and appropriate for the application. Using an oversized motor or the wrong equipment all together can significantly increase energy consumption and costs.
FREQUENT ON/OFF CYCLING OF A PUMP
Turning your pump on and off frequently increases power consumption because a motor requires a high surge of power at start-up. It is also very hard on a pump, especially if you're using across the line start - or instant start-up up of a pump motor.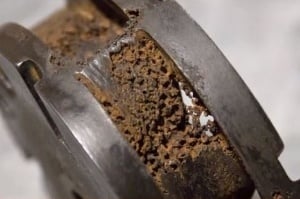 CAVITATION NOISE AT THE PUMP
Cavitation causes excess noise and energy consumption, not to mention the damage it causes to a pump. When a pump cavitates, it runs off its Best Efficiency Point (BEP) on the pump curve, either to the right or left, creating excessive vibration and decreased flow and pressure. Cavitation also affects gauge and instrumentation readings, which are critical to understanding how the pump is operating relative to its BEP. Remember that equipment vibration is a leading cause for premature seal and bearing failure, and is an operator's nightmare.
Preventative and predictive maintenance programs can help detect problems before they start. Be proactive with your equipment!
CHANGING THE FUNCTION OF A SYSTEM WITHOUT MODIFYING IT
Equipment selection is critical to optimizing total cost of ownership and increasing efficiency. When a pump is selected for an application, specifications and parameters are set for the pump for that application. If the design point is changed, and the pump remains the same, a slew of issues can occur, like increased energy costs, cavitation, etc. – especially if flow rate is altered.
OPERATING A SYSTEM THAT DOESN'T MEASURE FLOW, PRESSURE, OR POWER
Flow, pressure, and power are all basic ingredients for understanding what a pump is doing and how its operating on the pump curve. These gauges indicate what the total dynamic head (TDH) is, which is compared to the pump curve to determine where the pump is operating relative to its Best Efficiency Point (BEP). Without ability to measure flow, pressure, or power, an operator is essentially operating a pump blind.
USING ONLY NON-OEM PARTS FOR PUMP REPAIR TO KEEP COSTS LOW
Focusing on purchase price alone without regard to quality or efficiency is a short-term cost savings strategy that can actually cost you more in the long run, in terms of maintenance costs and unplanned downtime. It's a proven fact that non-OEM parts (parts that DO NOT meet original equipment manufacturer standards) do not perform as well against standard OEM parts, which is almost a guarantee for increased total cost of ownership over the life of a pump.
To learn more about this study, see Not All ANSI Pumps Are Created Equal.

If you're looking for ideas to increase pump reliability, don't miss Tom Dabbs's (ITT Goulds) session at the Crane Engineering Tech Expo on May 14 - "10 Steps to Pump Reliability"! Register now for Tech Expo!