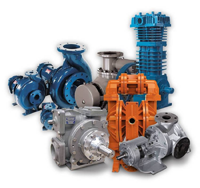 You've probably heard the saying that less is more. Well, that's not always true. When it comes to selecting a pump more information is better. Several variables play a direct role in how long a pump will last and how it'll operate. If you aren't sure about how to select the right pump, or what information you should know before contacting a vendor, you're not alone! We've put together a list of 7 things you should know when selecting a pump to help guide you through the process.
1. Process Liquid Properties
What type of liquid is the pump intended for? Below are process liquid properties that must be considered before selecting a pump.
Temperature
Specific gravity
Vapor pressure
Solids present & concentration
Shear sensitive
Abrasive or Non-abrasive
2. Materials of Construction
What materials of construction are compatible with the process liquid or any other liquids the pump might come into contact with? Chemical compatibility charts are available to help you identify the most appropriate materials of construction for the pump.
3. Is the Pump Critical to Plant Operation?
In critical applications, where downtime is NOT an option, more expensive, heavy-duty pumps with special features can be chosen. If pumps can be removed from service for maintenance, less expensive options could be considered.
4. Pump Inlet Conditions
You don't want to starve a pump. System Net Positive Suction Head (NPSH) available is calculated by knowing pump inlet pressure and liquid vapor pressure. Always make sure NPSHA exceeds pump Net Positive Suction Head (NPSH) required.
5. Pump Environment
If your pump will be outside, special construction or installation considerations may need to be made for freezing temperatures. If the environment is hazardous, contains explosive vapors or dust, special motor features will be required. These are just a few examples of environmental conditions to consider.
6. Power Source Availability
The most common power source in the United States is 115-230 Volts/60 Hertz/1-phase or 230-460 Volts, 60 Hertz/3-phase. Special motors can be specified for operation outside of the United States or by using DC batteries. Compressed air or pressurized hydraulic oil can also be used for power.
7. Flow Rate and Pressure
Your total volume and knowing how much time you have to move the fluid will determine flow rate. Pump differential pressure can be calculated by knowing pipe size (length & fittings), static lifts, and system equipment (filters, valves, etc.) friction losses.
By understanding the above factors, you're arming yourself with the knowledge necessary to select the right pump. No matter the application, you can feel confident with your next pump selection!
Contact us today for assistance with pump selection, or general questions concerning pumps and other fluid handling equipment. Our staff of degreed Engineers are happy to provide technical assistance to businesses in Wisconsin and upper Michigan.