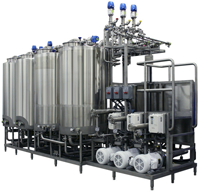 Clean-in-place (CIP) is an automated method of cleaning the interior surfaces of pipes, tanks, lines, process equipment, and associated fittings without requiring the operator to disassemble the equipment. Implementing a CIP system that is engineered for your specific plant application and utility requirements allows the operator to spend less time cleaning and more time on other tasks required in his or her role. We'll guide you through the basic overview of a CIP system, standard designs, and finally, specification factors, so you can be sure your next system is effective and efficient.
CIP System Overview
Manual cleaning of process equipment can be costly, time consuming, and down right unproductive for an operator. Understanding that all facilities must maintain a standard of cleanliness, the CIP system is a go-to solution. They're found in a variety of industries, such as Food, Beverage, Bio-Tech, and Pharmaceutical, but for which applications? CIP systems are used for food (dairy, meat, poultry, seafood, baking), beverage, pharmaceutical (oral, injectable, bulk, topical), and cosmetic applications just to name a few.
CIP System Components & Designs
The design of CIP systems can vary greatly depending on the application, plant standards, industry, etc. These systems can be portable or stationary; single-tank, two-tank or multi-tank; single-use, re-use or once-through; as well as designed for multi-circuit capabilities. Each design strives to minimize cycle time, lower chemical usage, reduce water and utility costs, and promote worker safety.
The basic components of a CIP system include:
Tanks
Centrifugal supply pump
Suction, return valves & piping
Waster addition assembly
Discharge strainer (optional)
Shell & tube heat exchanger
Instrumentation and automated controls
Chemical feed equipment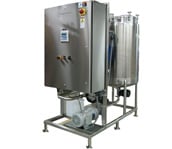 Single Tank
Once-through or re-circulated source of cleaning solution and rinse water
Provides simple and flexible operation with less space requirements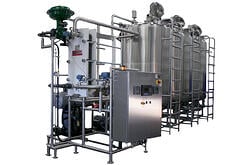 Two-Tank & Multi-Tank
Permits reuse of wash solution and rinse water
Ideal for facilities where water utilities are limited
The supply and re-circulation options decrease wash cycle times and improves efficiency
Reduces water and wastewater costs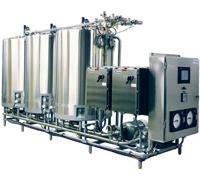 Dual Operating
Cleans two CIP circuits simultaneously
Substantial space and cost saving benefits over two separate units
Using the right system design and sizing ensures sufficient flow and appropriate pressure to thoroughly remove residue and rinse effectively. Controls and programming optimize the cleaning cycle and integrate the clean-in-place function smoothly into your operation.
To guide you through specifying a CIP system, we outlined the most important factors for proper specification in a free downloadable eBook: The Plant Engineer's Guide to Specifying CIP Systems. Download your copy today!