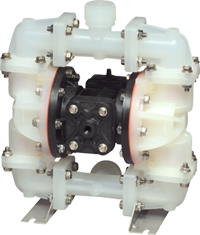 If you're involved with pump selection (or other fluid handling equipment), you know material compatibility is important. Ignore it, and expect corrosion, pitting, swelling, melting, seizing, and other severe effects, sometimes leading to just minutes of operation. Make sure you make the right choice for your next pump or other fluid process equipment. Take a high level look at some important factors to consider.
FACTORS TO CONSIDER
CONCENTRATION
The concentration of your chemical can be critical, you may be able to get away with more economical materials with low concentration.
Example: 316SS material is typically acceptable for use with Hydrochloric Acid at percentages of 5% or less receiving a Good rating, but if introduced to higher percentages expect severe effects.
TEMPERATURE
Some chemicals become more reactive when temperatures are elevated. Many times, compatibility charts will note limits for a material where chemicals become more reactive.
Example: Sodium Hydroxide can be handled in varying percentages with 316SS material at ambient temperatures, but as the temperature increases near 120°F expect pitting.
ULTRA-VIOLET LIGHT
UV from the sun can also act as a catalyst to premature failure, particularly with plastics when certain chemicals are present.
Example: Sodium Hypochlorite (Bleach) in a polypropylene tank exposed to extended UV light can damage the structural stability of the polypropylene due to the sensitivity of bleach.
LIFE EXPECTANCY
In many cases, selecting a pump that has excellent compatibility rating across the board for all components is preferred. This is usually the case when the chemical being pumped is hazardous, expensive, a process is critical, or downtime is unacceptable.
PROPRIETARY LIQUIDS
When pumping a liquid considered to be proprietary, or not listed on any compatability charts, contact the supplier of the chemical and find out what materials are acceptable for handling the liquid. Another option would be to test samples of the material you wish to use in a container filled with the process fluid.
BRIEF OVERVIEW OF MATERIALS USED
It's important to understand the behaviors of the materials being used to move the chemicals. Below is a list of common base materials and elastomers commonly found in pumps.
COMMON BASE MATERIALS
Irons (Cast iron, ductile iron, grey iron etc.)
Widely used where possible due to its economical aspect. It is the preferred material for pumping water in non-sanitary application. It has a limited compatibility range since once of the primary components of this material is carbon.
Stainless Steel (304SS/316SS)
A preferred material choice where an iron material is not acceptable or desired. It's compatible with a good range of chemicals and a readily available material. Though at premium to iron, it is also used extensively in sanitary applications or where a greater amount of resistance to abrasion is required.
Alloys (Alloy 20, CD4MCu, etc.)
An alloy is metal with multiple elements designed to provide certain performance properties such as hardness for abrasion, corrosion resistance, or superior temperature capability. In the pumping industry, many alloys contain a higher chrome content, ideal for abrasion and highly concentrated chemicals.
Teflon (PTFE)
This non-metallic material is ideal for use with aggressive chemicals due to its broad compatibility range. To provide rigidity, the PTFE is sometimes formulated with 25% glass or carbon. Some manufacturers use Teflon as a coating of iron components to take advantage of the strength and economic value of the iron while utilizing the Teflon's chemically inert nature in contact with the aggressive process liquid. The only drawbacks are that it comes at a premium in comparison to other base materials, and is not acceptable for abrasive applications.
PVDF (Kynar, Polyvinylidene fluoride)
PVDF is very similar in compatibility and performance as PTFE though they each have coverage for materials that the other is incompatible with.
Polypropylene (PPE)
PPE is a thermoplastic commonly used in air-operated diaphragm pumps that is regarded for its excellent rating for many chemicals while being readily available and economical. This non-metallic option does have its drawbacks in that it is only rated to 150°F and does not hold up well to particulate/abrasives.
ELASTOMERS
EPDM (Ethylene propylene rubber)
This synthetic rubber is a good economical O-ring choice for general service, and excels at hot water service since it retains its elasticity. (200°F max)
Buna-N/Nitrile (NBR, acrylonitrile butadiene rubber)
Another synthetic rubber like EPDM with an average compatibility range excelling against specific chemicals with a mild temperature limitations. (220°F max)
Viton (FKM, fluoropolymer)
Viton is a DuPont trademarked synthetic rubber widely used in industrial service. Viton is regarded for its broad chemical compatibility as well as temperature limit, covering most applications while remaining economical. (400°F max)
Aflas
Less common in the industry than Viton, Aflas is an Asahi Glass Co. trademark elastomer providing a good economical option where Viton cannot be used as an alternative to Kalrez/Chemraz. It is ideally suited for steam applications. (500°F max)
Teflon (PTFE, Polytetrafluoroethylene)
Best known as Teflon as formulated by Dupont, this fluoropolymer is chemically compatible with nearly all acids and bases. Its drawback as an elastomer is a lack of resiliency or elastic memory compared to others, making it not as ideal for applications where it is required to flex back and forth to seal.
Kalrez, Chemraz (FFPM/FFKM, Perfluoroelastomer)
Elastomer blends designed for demanding services. These products have the best application range for aggressive chemicals and can be used at higher temperatures, but are normally added a significant premium. (600° F)
COMPATIBILITY TOOLS
Note that no compatibility chart is completely comprehensive and you should reference multiple charts when researching an application. Also from manufacturer to manufacturer, materials are rated differently.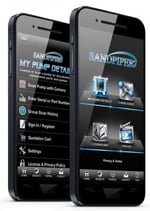 Here are some of the tools we use:
Warren Rupp / Sandpiper Chemical Compatibility Guide
This chemical compatability guide is available online as a PDF, and as a mobile app (for iPhone and Android).
Cole Parmer - Online Interactive Compatibility Guide
This chemical compatability guide is quite comprehensive and available online.
Do you have chemical pumps giving out way too early? Unsure how to select the right pump for your application? Ask us about it! We're happy to provide technical assistance to businesses in Wisconsin and Upper Michigan.