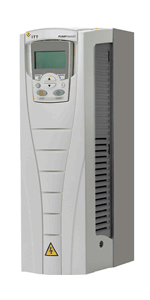 It shouldn't come as a surprise that pumps can consume a lot of energy. As the cost of energy rises, many manufacturers are looking for better ways to use and conserve energy, specifically when it comes to pumps. Fortunately, pumps hold high potential for energy savings, and one way to save is by implementing variable frequency drives.
A basic variable frequency drive, or VFD, is an adjustable speed drive used to control motor speed and torque. They automatically right-size pumps, controlling pump speed to match process flow and demand at all times. A VFD's ability to control speed and behavior of a pump not only makes them ideal for energy savings, but also helps to protect pumps from damaging themselves. More intelligent VFDs have additional benefits that allow for even more control over a pump, or even multiple pumps.
Here are some signs that it may be time to look into a basic, or more intelligent, variable frequency drive:
WATER HAMMER / HYDRAULIC TRANSIENTS

Hydraulic transients, or water hammer, are pressure waves that are sent through a system when a pump is abruptly started or stopped. Adding a VFD will prevent this from happening by initiating a soft start and stop, preventing damage to the pump and system.

THROTTLED VALVES

Running a pump against a control valve at less than 50% open results in excess energy usage to overcome the head loss. This also causes the pump to run too far back on its curve, away from BEP, reducing efficiency and opening the door for reliability issues.

PRESENCE OF CAVITATION NOISE

Does it sound like you're pumping marbles? The pump may be experiencing cavitation conditions. Cavitation is a common problem with pumps that have been oversized. It causes fluid recirculation, excessive pressure, and vibration, resulting in damage to the pump and ensuing maintenance costs.
More advanced VFDs, sometimes called Intelligent Flow Control Technology, take the VFD concept to the next level, reducing energy and maintenance costs in even more ways. If your system has these conditions, you may want to consider a more advanced VFD.
BYPASS LINES ARE NORMALLY OPEN

Pumps need to be operated above a minimum flow and with an across the line starter, running at 60 Hz. This minimum flow is significantly higher than when running at reduced speed. Through the use of a VFD the minimum flow can be significantly reduced or the bypass line eliminated.


MULTIPLE PARALLEL PUMP SYSTEM WITH SAME NUMBER OF PUMPS ALWAYS RUNNING

The speed and number of pumps you need is largely dependent upon changes in process demand. A more advanced VFD can speed up, slow down, and turn off or on multiple pumps at one time, evenly spreading out the workload, while saving energy and needless pump and system damage. This video illustrates how some more advanced variable frequency drives, like ITT's PumpSmart, can manage workload.
CONSTANT PUMP OPERATION IN A BATCH ENVIRONMENT OR FREQUENCY CYCLING IN CONTINUOUS PROCESS

Pumps which are feeding a batch process that are left to run constantly are sometimes operated at dead head conditions drastically reducing MTBF. This can be minimized or avoided through the use of a VFD. Often there will be pumps that a cycling on/off to fill a tank in a continuous process – this wastes a lot of energy and significantly reduces MTBF. Using a VFD to continuously feed the tank will eliminate the start/stops and wasted energy.
If reducing energy and maintenance cost has become a priority in your facility, implementing basic or advanced VFDs may be a great place to start. Local paper mill, Appleton Coated in Combined Locks, Wisconsin, along with the help of Crane Engineering and ITT ProServices, took a very close look at their pump energy usage and managed to save $102,000/year by implementing variable frequency drives in five applications. To read more about their savings, check out the case study on the ITT ProServices website.
Got an oversized, or troublesome pump? Ask us about it! We gladly provide technical assistance to companies in Wisconsin and Upper Michigan.