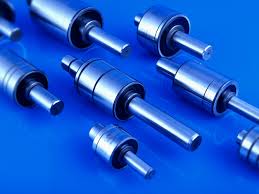 In our eBook 36 Ways to Kill Your Pump, we uncover several reasons why bearings fail prematurely. Symptoms of bearing failure include flaking, pitting, unusual wear patters, rust, corrosion, etc., but if cared for properly, bearings can offer substantial service life even under the harshest conditions.
According to an article in Machinery Lubrication, there are 4 common reasons for premature bearing failure: improper lubrication procedures, installation errors, operational stress and bearing selection, and the operating environment. This post dives into each of these causes and why they're problematic for bearings.
IMPROPER LUBRICATION PROCEDURES
Last week, we published a post about the Truth Behind Lubrication & Over Greasing where we discussed the benefits of lubrication and the effects of over greasing. To recap, lubrication prevents metal-to-metal contact, prolongs service life, and keeps contaminates out of the bearing housing. But, using too much grease is equally as bad as not using a lubricant altogether. Over greasing is often to blame for bearing failure because it creates elevated energy loss, increased temperatures, and oil bleed.
Lubrication failures also happen when an operator:
Uses the wrong type

Doesn't use enough

Allows the lubricant to come into contact with water or other contaminates
It's also important to consider the grease service life, which is known as the "the time over which proper bearing function is sustained by a particular quantity and category of grease". This is particularly important in pumps, compressors, and motors.
MOUNTING & INSTALLATION ERRORS
When mounting and installing bearings, be sure to use the right tools and verify shaft and housing tolerances. When the fit is too tight, too much preload is created. When the fit is too loose, you can generate too little preload, which could cause the shaft to rotate in the bearing. Misalignment or shaft deflection should also be avoided.
OPERATIONAL ISSUES & BEARING SELECTION
It isn't common for bearings to be incorrectly selected for an application. But, things can change throughout the life of a pump. Bearing overload and fatigue are effects of bearing loads becoming too high. If bearing loads are too low, skidding may occur. Both result in premature bearing failure. Improper internal clearance can also result in unexpected failures.
Generally speaking, the first sign of bearing failure is unusual noises and/or increased temperatures. However, it is common for bearing temperatures to rise at start-up and stabilize as the equipment runs during normal operating conditions. But, as for the unusual noises, there are "normal" bearing sounds that reveal certain issues in the bearing application. Operational stress also plays a role, such as equipment vibration, which we've learned wreaks havoc on rotating equipment.
ENVIRONMENTAL INFLUENCE
The equipment's operating environment is often overlooked. Using appropriate sealing techniques can prevent dirt or water from contaminating the bearing. External heat can also influence bearing life by mandating choices in radial internal clearance, high-temperature lubricants, intermittent or continuous running, etc. Not such a common occurrence, but worth noting is if a current passes through rolling elements it can create sparks, which causes pitting or fluting on the bearing surfaces.
Remember that premature bearing failure can be caused by one (or more) of the above factors. Careful consideration should be taken when selecting bearings for any piece of rotating equipment to ensure it can withstand the application.
For help with repetitive failures on rotating equipment, contact our Service Team! We provide in-house or field service and repair services for pumps, valves, mechanical seals, etc.