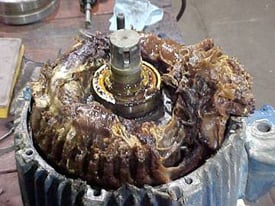 Lubrication plays a significant role in maintaining rotating equipment. It minimizes friction and prevents wear by separating parts that move next to each other, like ball bearings. So, when it comes to lubrication, more is best, right? Actually, over greasing motors and components is a common practice that is detrimental to equipment's life expectancy.
This post gives you an in-depth look into the effects of over greasing and how to prevent it, including a few quick tips to control over greasing from Machinery Lubrication, a publication dedicated to lubrication best practices and recommendations.
EFFECTS OF OVER GREASING
As we covered in our eBook 36 Ways to Kill Your Pump, too much lubrication leads to higher operating temperatures and seal failure. Why? An abundance of grease in a bearing cavity will cause rotating bearing elements to begin churning and pushing the grease out of the way, resulting in energy loss and increased temperatures. Rapid oxidation (or chemical degradation) of the grease is accelerated, as well as the rate of oil bleed, which means the oil separates from the thickener. Eventually, high temperatures and the increased rate of oil bleed will cook the grease thickener into a hard, crusty build-up that will hinder future lubrication applications because it'll block new grease from reaching the core of the bearing. This results in accelerated wear of the elements and complete component failure.
Over greasing is also to blame for seal failure and damage. Because grease guns produce up to 15,000 psi, lip seals can rupture allowing contaminates to enter the bearing housing. When too much pressure is generated from a grease gun, it's easy for the hard, crusty grease to break apart and find its way into the bearing track.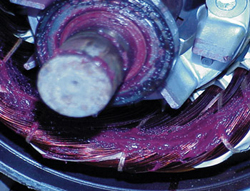 PREVENTING OVER GREASING
The most effective way to avoid the problems of over greasing is to set up a maintenance program. Within this program, each lube point is tracked throughout the facility. Records are maintained for scheduling out future maintenance or inspections of the point. Once this is planned out, you need to determine the frequency of applications and volume of grease to be applied at each point. The amount of grease required is determined by the dimensions of the bearing or bearing housing. The equation to calculate this is simple:
G = 0.114 x D x B
G = amount of grease or volume (ounces)
D = bore diameter (inches)
B = bearing width (inches)
For help determining frequency of grease applications, understand the load, bearing type, speed, temperature, and environment of each point.
Finally, take time to establish procedures and inspections during lubrication to prevent over greasing. For example, make sure the areas around the fill and relief fittings are clean, use the right amount of grease when greasing a bearing cavity, remove any excess grease by allowing the motor to run during and after greasing, and etc.
Careful considerations should be taken when applying lubrication to bearings and bearing housings, otherwise risk unexpected failures to bearings and seals, and eventually complete component failure due to over greasing - which is easily avoidable. Below are few quick tips from Machinery Lubrication to help control over greasing:
Discontinue greasing when you feel abnormal back pressure.


Always make sure exhaust ports are cleaned out from any debris or old, hard crust that could be blocking the passageway.


Consider installing grease guns with pressure gauges, shut-off grease fittings or relief-type vent plugs.



Slowly pump grease into bearings every few seconds. Using a quick-lever action could cause seal damage and not allow the grease to distribute throughout the bearing correctly.
**Machinery Lubrication, a Noria Publication, provides tactical and strategic insights that help keep plant equipment running at peak performance.

Tell us about your experiences with over greasing motors or bearings in the comments below. We'd like to hear from you!
If you have questions about why your rotating equipment is failing, download our eBook 36 Ways to Kill Your Pump or contact us today! We gladly provide technical assistance to businesses in Wisconsin and upper Michigan.