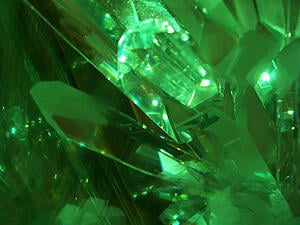 If you've been a follower of our blog, you know we've stated over and over again that viscous fluids are bad for centrifugal pumps. But WHY?
Why is it exactly, that viscous fluids are the centrifugal pump's arch nemesis? It's kryptonite, if you will, drastically reducing its efficiency, and taking more energy to move a diminished amount of flow?
THE EFFECTS OF VISCOUS FLUID ON CENTRIFUGAL PUMPS
Lowered efficiency is definitely the biggest disadvantage of the centrifugal pump when handling viscous fluids. Your system may experience the following:
Reduced capacity
Reduced head generated
Increased brake horsepower requirement
Pump efficiency is reduced, and BEP is moved
Check out our previous post, "The Effects of Viscosity on Pumps and Their Systems" for greater depth on this topic.
WHY CENTRIFUGAL PUMPS AND VISCOUS FLUID DON'T MIX
Generally speaking, centrifugal pumps are most suitable for low viscosity fluids, since the pumping action generates high liquid shear. As viscosity increases, pump performance diminishes due to friction loss. Viscous drag imparts on the impeller, the pump's head and flow are reduced, and the horsepower required is increased. All of this together reduces the performance of the centrifugal pump.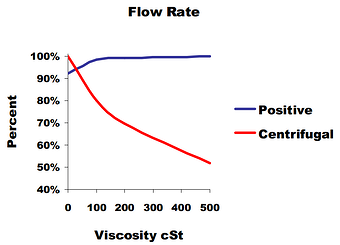 A BETTER OPTION FOR VISCOUS FLUIDS
When selecting a pump for thicker fluids, positive displacement pumps should be considered. According to a Pump School article, as viscosity increases in a positive displacement pump, flow rate does too "because the higher viscosity liquids fill the clearances of the pump, causing higher volumetric efficiency." PD pumps also operate at lower speeds and impart low amounts of shear energy to the fluid compared to a centrifugal pump.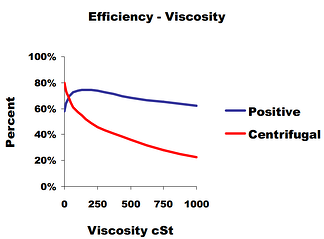 As viscosity increases, you'll also see better efficiency rates. According to the same Pump School article referenced above, "because the centrifugal pump operates at motor speed, efficiency goes down as viscosity increases due to increased frictional losses within the pump." The positive displacement pump will not experience such a drop off in efficiency.
There are many factors to consider when selecting the right pump for your system. Viscosity is just one of them. Be sure to understand all the factors completely, or work with an engineer who does, so the pump you choose helps your system perform at peak efficiency, instead of serving as its kryptonite.
If you've got other questions about pump selection, ask us about it! We gladly provide technical assistance to businesses in Wisconsin and Upper Michigan.