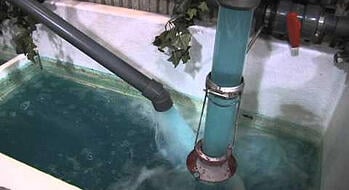 It's a well known fact that centrifugal pumps intended to move fluids do a rather poor job moving air. Pumps with entrained air can experience a myriad of issues, not to mention headaches for their operators. Think you may have an issue with air in your pump? Read on to learn the symptoms, and some of the most common reasons air may be entering your system.
WHAT HAPPENS WHEN AIR IS IN THE PUMP
Generally characterized by noisy operation, and excessive vibration, air inside a pump can have some seriously undesired results.
As the percentage of gas by volume increases, the performance of the pump decreases. According to the Goulds Pump Care Manual, a mixture of only 2% gas by volume will cause a 10% drop in capacity. If you've noticed a drop in performance, or "gravel" type noise when the pump is in operation, you may have air inside.
Not only will pumps with entrained air experience a drop in performance, serious cases will cause shaft breakage, seal failure, or accelerated corrosion.
A SHORT LIST OF HOW AIR GETS IN THE SYSTEM
So how did air get inside of the system? Below is a list of just some of the ways air could be creeping inside.
FREE FALLING DISCHARGE

Free falling discharge, or the waterfall effect, is when liquid is discharged into a pit or tank near the pump suction line that draws fluid from the tank/pit. The bubbles created when the fluid enters the water are pulled into the suction line, causing problems for the pump. The illustrations below, from the Goulds Pump Care Manual show suggestions for discharge line configurations to avoid this effect.

This video from Gorman Rupp illustrates how free falling discharge can cause water to enter the suction line.



LEAKY SUCTION LINE

Air can easily enter pumps through leaks in the suction line at elbows, joints, etc. It's safe to say, if fluid is coming out, air is definitely getting in.

NOT MEETING MINIMUM SUBMERGENCE

Submersible, immersible, or pumps in suction lift applications can be prone to air entrainment when the minimum submergence level in the tank/pit are not met. When the fluid level in the tank or pit meets a certain level, a vortex can form.

This video from Gorman Rupp does a good job showing how a vortex can form on the surface of the water and make its way all the way up the suction line to the self-priming pump above.





PRODUCT WITH ENTRAINED AIR

This is problem is very common in paper stock applications, but could be seen in other industries where air pockets in the product being pumped are present. There's not much you can do to change the product to appease the pump, but there are ways to modify your pump or process to keep your pump happier. Be sure to talk to an engineer experienced in fluid processes to help you make those decisions.
The amount of air that can be handled by a pump varies from pump to pump. But one thing is certain, all fluid handling pumps operate better when no air is present.
If you're experiencing issues with a pump making too much noise, or vibrating excessively, ask us about it! We gladly provide technical assistance to businesses in Wisconsin and Upper Michigan.