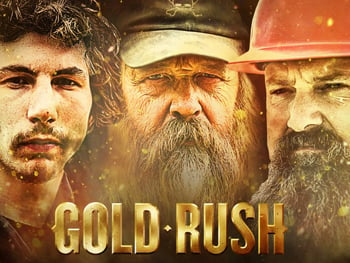 I'm a huge fan of 'Gold Rush' on Discovery Channel, so you can imagine my excitement when I saw one of the pump lines Crane Engineering represents, an engine driven Gorman-Rupp, at Parker Schnabel's mine on the show. I decided to reach out to Tim Cline, Manager of Construction and Agriculture Sales at Gorman-Rupp, to get more insight on what it's like to work with some of the miners on the show.
How long has Gorman-Rupp been working with miners on 'Gold Rush'?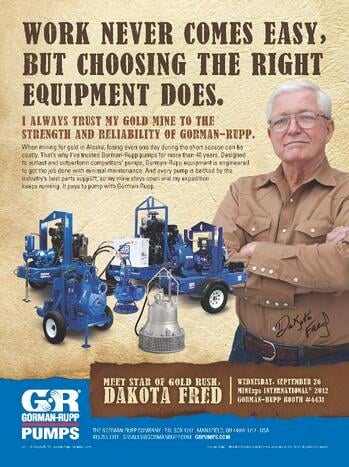 Dakota Fred previously used Gorman-Rupp Pumps as a construction equipment contractor. He stopped by our booth in 2011 at ConExpo in Las Vegas. We started a relationship with him and provided him with more engine driven products to use on the show. He started appearing in our advertising and working the booth with us in the 2012 MINExpo and 2014 ConExpo.
When Parker Schnabel started on the show, he was already using Gorman-Rupp pumps received from our distributor, Construction Machinery in Juneau, AK. He has been using our Prime Aire Pumps on the show for the last 3 years.
Freddie Dodge is also using two Prime Aire Plus models on the show.
How are the miners using Gorman-Rupp pumps?
The pumps on the show are used for dewatering, water transfer and to supply water to wash plants. These are the most common uses at the mines. Electric and hydraulic submersibles have also been used for dewatering pits to excavate pay dirt to be washed for possible gold. Some of our smaller engine driven pumps have been used to wash gold from the sluice gates removed from wash plants.
What are some of the big challenges you've had to consider when selecting a pump for such a harsh application?
The biggest challenges we have seen is that the pumps are used in applications to dewater, but the dams are manmade and sometimes fail, flooding the pumps. The other issue is making sure the suction lines are suspended so they are not buried in the silt in the pit. The pumps needed to be applied to meet the higher head and flow requirements.
A new Gorman-Rupp pump debuted on Gold Rush in December. What exactly did Parker's crew get?
The pump that aired on Gold Rush last week was a PAH8A60-C9.3. This was a prototype unit with our Prime Aire Plus model 10" Suction by 8" Discharge. It has an interim Tier 4 Caterpillar engine. The control was supplied with a remote control to operate the pump remotely from the wash plant. The pump replaced a Pioneer Pump that would not supply the flow needed. They need 4,000 GPM at their wash plant.
Why do miners in the Klondike want Gorman-Rupp pumps in their mines?
Our major advantage is the additional flow and head our pumps provide, but durability is the main reason that the miners want to use our equipment.
Have you had the opportunity to travel to Alaska and see Parker's mining operation?
I have traveled to Alaska and have seen our equipment in operation in other gold mining applications, but have not been to Parker's mine. Jeff Gorman went to Porcupine Creek on last season's show and spent a week with Dakota Fred at the mine.
What is it like to work with Parker and his crew?
Communication with Parker is very limited because they are very busy and only check e-mails occasionally. They are extremely knowledgeable of the equipment and know what they need to make their operations work. I worked with Parker and his mechanic Gene Cheeseman with any questions about application, installation and operation.
Got questions about working with pumps in harsh applications like this? Ask us about it! We gladly provide technical assistance to businesses in Wisconsin and Upper Michigan.