Chemical attack on concrete can be a devastating result of processing water and wastewater. Coating systems are designed to help protect concrete by providing a barrier to various chemicals, such as sulfuric acid, sodium sulfates, ammonium, and moisture penetration.
You'll find coatings used in tanks, troughs, aerators, filter beds, and even clarifiers – pretty much anything that comes into contact with a combination of chemicals or water. There are a number of coating systems proven for water and wastewater treatment applications, but those that particularly stand out are epoxies, coal tar epoxies, polyurea and polyurethane coatings.
But before you start your next coating project, do you know which one is right for your specific application?
Two-Component Epoxies
Epoxy coatings are suitable for immersion service on both concrete and steel and are easy to clean. Because of their high solids content, they comply with strict air quality regulations and are extremely hard and durable. They have excellent adhesion properties and protect against contaminate spills, chemical attack, and abrasion.
Coal Tar Epoxies
Coal tar epoxies are economical and are commonly used on concrete and steel to protect against mild chemical attack and abrasion. Coal tar adheres well to bare concrete and is relatively easy to apply with spray, brush, or roller.
Polyurea & Polyurethane Coatings
Polyurea and polyurethane coatings perform well in immersion service at treatment plants. They dry fast and aren't temperature dependent for curing. However, the installation process does require additional equipment at an added cost.
Understanding that not all coating systems are created equal, consider (4) different exposure conditions of the equipment: immersion service, moist atmospheric exposure, industrial exposure, and interior dry exposure. And, as with any coating application, surfaces must be carefully prepared for maximum service life. Read more about the 7 Important Steps For a Perfect Floor Coating Application.
See the table below outlining recommended coating systems for the different water and wastewater treatment facility applications.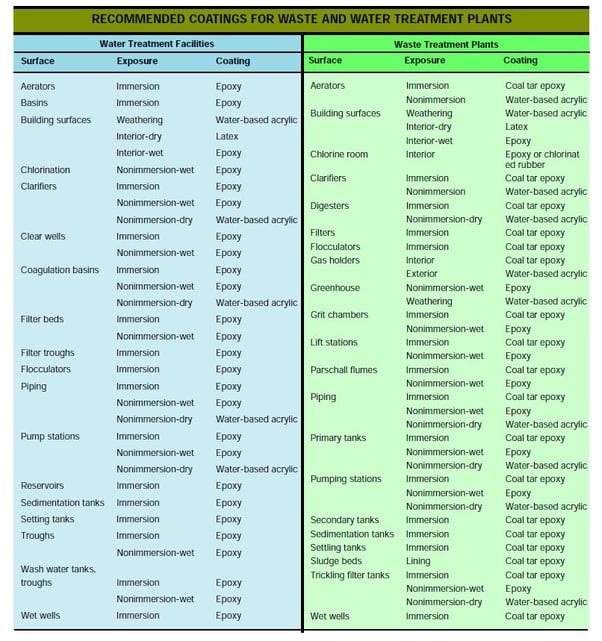 Need more information about the best (and worst) coating systems for wastewater applications? Contact us.