Today's pumps account for no less than 10% of the world's electricity consumption. Two thirds of all pumps in operation today use up to 60% too much energy. (Grundfos Energy) If you're looking to reduce your energy usage, your water booster system may be a great place to start.
The water booster systems of yesteryear were built with one goal in mind. To deliver water where it's needed on demand, and at the pressure required. They were constructed with very little thought to the amount of energy that would be consumed, or the failure rate of the equipment in the system. Today's water booster systems however, are required to not only provide water and pressure on demand, but also do it without being an energy hog. With new technology available, it can be done.
Older system designs operate continuously, regardless of demand, so the water supply is instantly available when needed. This mode of operation can consume considerable amounts of water due to recirculation and power to provide on demand capability. It is also incredibly hard on pumping equipment to operate at minimum flow for extended periods of time. Reduced seal and bearing life are a result.
WATER BOOSTER SYSTEMS 2.0
Today, water booster systems are still about meeting water flow and pressure requirements, but they're also about saving water, energy, and money. If you're thinking about upgrading to a newer system, look to implement these technologies to get the longest life at the lowest total cost of ownership
Multi-stage Centrifugal Pumps
Multi-stage centrifugal pump technology has evolved to cover a wide range of flow and pressure requirements. By operating several pumps in parallel to cover a wide demand in flow, power consumption plus wear and tear on equipment can be kept to a minimum.
Smart Variable Frequency Drives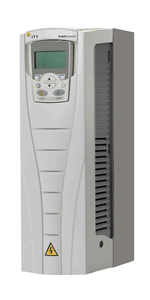 Smart variable frequency drives are available that communicate and provide parallel pump operation based on demand without the use of a separate PLC to operate the system. They can also control the lead and lag pumps so they cycle equalize the run time. A pressure transmitter would then be used in conjunction with the VFD to maintain constant pressure.
Smart VFDs can help call attention to excessive water demand due to a downstream problem. They are able to calculate flow within 2%, eliminating the need for a flowmeter.
Paperless Data Recorder
A Smart VFD monitors output pressure, flow and power consumption in real time. You will want to log that information and analyze it later to monitor system performance and upset conditions. This is where the paperless data recorder comes in. It can log water and power consumption 24/7 for you to download later to a PC.
PUMP EFFICIENCY IMPROVES WITH NEW TECHNOLOGY
Though pumps and water booster systems are extremely important, they are also a major source of energy waste. But the pump industry has changed over the years. Manufacturers have made strides to make pump designs more efficient, and give operators greater control over their process by using variable speed motor technology.
If you think your water booster system may be the source of energy waste, ask us about it! We have helped others evaluate their current systems to see how much energy is being lost, and the potential savings that could be realized with new or different technology.