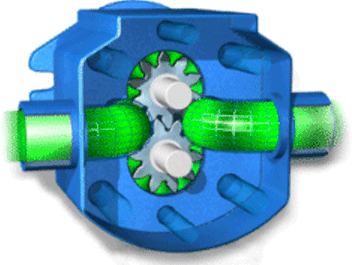 There are a lot of choices out there when it comes to positive displacement pumps. Last week we gave a quick and dirty explanation of internal gear pumps, this week we take on the external gear pump. External gear pumps, as you may have guessed, are quite different from internal gear pumps. Though they have similarities, such as using gears to move fluid, their applications and capabilities are drastically different. Read on to learn more about the external gear pump, how it works, and its best and worst applications.
EXTERNAL GEAR PUMP OVERVIEW

External gear pumps can be found in either single or double configuration with a variety of different gear types (helical, herringbone, or spur), depending upon the application. This pump is particularly well known for its tight tolerances, allowing for a great deal of flow control, and high pressure capability.

HOW IT WORKS

As mentioned before, external gear pumps work similarly to internal gear pumps in that two gears come in and out of mesh with each other to generate flow. Instead of the gears turning in the same direction, as they do in the internal design, the external gear pump will typically have two identical gears that rotate against each other. As the gears come out of mesh they draw in liquid. The teeth then hold the liquid in as they rotate against the casing before the teeth mesh together again, forcing the fluid out the discharge port.

WHAT THEY'RE GREAT FOR

Tight internal clearances make the external gear pump ideal for hydraulics, metering, and applications where flow control is important. They can handle both high and low viscous fluids, but proper adjustments must be made to the speed of the pump for the appropriate viscosity. They work well for a wide variety of liquids, and are relatively quiet pumps.

WHAT THEY'RE NOT SO GREAT FOR

It's not a good idea to pump liquid with any type of solids through an external gear pump. Abrasive materials and high temperatures are also a poor choice for this pump. Basically pumping anything that can cause the pump to wear prematurely is a bad idea since any wear will require the pump to be either replaced or rebuilt due to its tight tolerances.

THEIR BEST APPLICATIONS

This is a short list of some of the best applications for this pump:
Fuel oils
Lube oils
Metering chemicals or polymers
Low volume transfer
Acids
The external gear pump is ideal for many applications. Think it might be right for yours? Make sure you get the right pump for the job by talking to an experienced engineer. If you need help selecting the right pump for your application, ask us about it! We gladly provide technical assistance to businesses in Wisconsin and Upper Michigan.