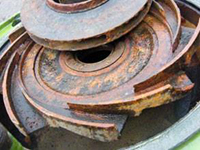 You may not know it, but you could be killing your pump! Whether it be installing pumps without aligning them, running them dry, off their best efficiency point (or any number of other ways), people inadvertently set their centrifugal pumps up to fail every day. Don't be one of them. Read these 5 ways you may be killing your pump, then download a more complete list in our eBook 36 Ways To Kill Your Pump.
1. PIPE STRAIN
Anytime a pipe pulls on a pump, pipe strain occurs. The pull on the pump can be caused by improperly supported pipes, or misalignment between the pipe and pump. Connecting a pump to a pipe that is too high can cause base plate damage, pulling the threads out of the base plate, along with nozzle breakage, casing damage, and premature impeller, stuffing box, and casing wear.
2. POOR PIPING DESIGN AND/OR INSTALLATION
Pump performance can be impaired. Designs with inverted "U"s on the suction side can trap air, while designs with a 90° immediately before the pump can cause turbulence inside the pump. Both actions result in suction problems and pump cavitation.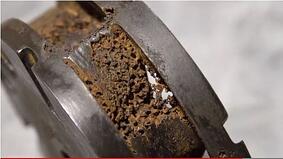 3. ALLOWING THE PUMP TO RUN DRY
This can be very damaging. It leads to pump cavitation and mechanical seal damage. In fact, a mechanical seal could experience thermal shock (or become too hot), and under the right conditions, it can shatter within about 30 seconds. The image to the right shows evidence of suction cavitation due to dry running a pump.
4. RUNNING AN IMBALANCED PUMP
Unbalance creates issues like structural problems, reduced machine and bearing life, increased vibration, and many more. Simply put, vibration hurts your equipment!
5. USING TOO LITTLE, TOO MUCH, OR THE INCORRECT LUBRICANT
Lubrication is the #1 cause of premature bearing failure. Using too little lubricant can cause the bearings to seize, while too much lubricant retains heat inside the bearing and causes oil leakage.
The solution for preventing unnecessary pump repair is not always simple. But, you can start by reading the pump manual and training your operators in proper maintenance and installation techniques. It is also important for operators to not solely rely on reactive maintenance, but to embrace preventative or predictive maintenance measures to improve the life of the pump.
Need help troubleshooting a bad actor pump in your facility? Contact us today! We're excited to provide assistance to businesses in Wisconsin and upper Michigan.