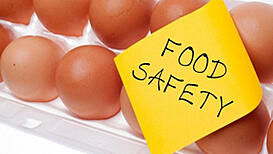 Data from the CDC shows that one in six people in the United States are affected from food-borne illness each year; that's about 48 million people. This is a staggering statistic considering that food-borne illness is preventable. Anyone who is a part of the world's global food chain must be held accountable for food safety. In 2011, the United States took action by signing into law the Food Safety Modernization Act (FSMA). In this post, we talk about the legislation, its provisions, and what it means for food manufacturers and equipment providers.
WHAT IS FSMA?
The Food Safety Modernization Act (FSMA) allows the FDA to pursue a system, based on science, that addresses hazards from farm to table, putting an emphasis on preventing food-borne illness. The better the system handles producing, processing, transporting, and preparing foods, the safer food supply will be.
HOW FSMA MAY AFFECT YOU
There are three aspects of the FSMA that will most likely impact both food producers and equipment manufacturers:
Preventive control

Record-keeping and traceability

Sanitary equipment design
The most significant and earliest impact on food producers is likely to be the Preventive Control rule, stating that each facility in the food supply chain must implement a written food safety plan that focuses on preventing hazards in foods. Operators must also understand what hazards are likely to occur in their operation and have preventive controls in place to minimize or prevent those hazards from happening.
ADDITIONAL PROVISIONS
Other provisions under the FSMA:
FDA has the authority to order a recall of food products, which up until now, food manufacturers and distributors made those decisions voluntarily.
FDA is directed to increase the frequency of inspections based on risk level. Facilities that pose a greater threat to food safety will receive the most attention.
The FDA's ability to oversee food produced in foreign countries is enhanced. The FDA now dictates which food enters the United States, and has authority to refuse food from overseas facilities if they refuse a U.S. inspection.



FDA must establish science-based standards for the safe production and harvesting of fruits and vegetables. These standards consider man-made risks to fresh produce, and also to naturally-occurring hazards—such as those posed by the soil, animals, and water in the growing area.
Keep in mind that the FDA must finish developing and finalizing the regulations that will dictate how they will implement the broad requirements of the Act.
The infographic below is an easy-to-digest resource on the Food Safety Modernization Act. You can download it by clicking then link below.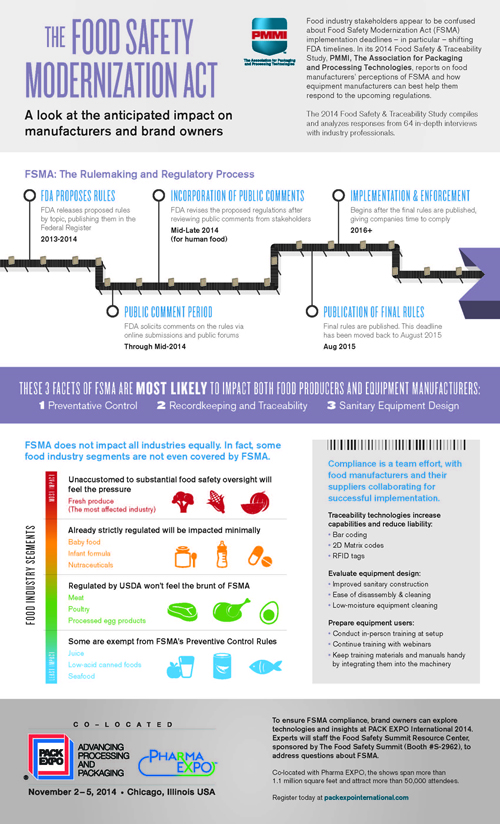 How is the Food Safety Modernization Act (FSMA) affecting your food manufacturing processes? Tell us in the comments below! Stay tuned for more information on this topic as it develops.

Need help moving fluid in a sanitary application? Contact us today! We are happy to provide assistance to businesses in Wisconsin and upper Michigan.