One of the most essential valves in water and wastewater pumping systems is the check valve. Its purpose is to automatically open while pumps are running, and return to the closed position to prevent reverse flow when the pumps are not in operation. These valves help minimize energy consumption and protect the pumping system from pressure surges and damage from reverse flow.
Selecting check valves for a process is like selecting hardware for new cabinets. Once you decide on a knob or a handle, there's a multitude of styles, colors, and price points to consider beyond that. Same with check valves. It's pretty clear the process you're working on requires a check valve, but which one? Each style of check valve is designed to meet a certain need. Here's the pros and cons of two different styles of check valves, the lift check and swing check.
Lift Check Valves
Lift check valves are commonly used in high-rise buildings, industrial and power plant applications, and water and wastewater applications. They have no external moving parts and are known to be economical and reliable. Over time, these types of valves can have high energy costs because the disc remains in the flow stream during operation.
Silent Check Valve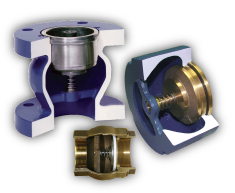 Silent check valves are known for their quiet closure. Flow pushes the disc to allow forward flow. When the pump is stopped, a compression spring pushes the disc into the seat before flow reverses, hence the silent closure.
This type of check valve is most commonly used in clean water applications with high head.
Nozzle check valves are very similar to the silent check valve, are meant for high pressure, industrial and power applications.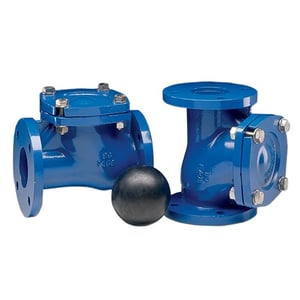 Ball Check Valve
Ball check valves are commonly used in water and wastewater applications. They have very simple operation, and are compact and economical too. These valves feature a rubber coated ball that moves in and out of the seat as flow moves forward and reverse.
Because the ball has a long way to travel when the pump shuts off, these valves have a high tendency to slam in high head applications.
Swing Check Valves
Swing checks are certainly some of the most common check valves used in water and wastewater pumping systems. They're readily available and relatively low cost. They're also automatic, requiring no external power source, guided only by the direction of flow.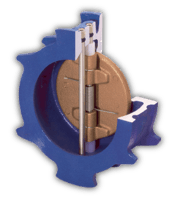 These valves can come in a few different configurations, operating in the same basic way.
Dual-Disc
This check valve features a wafer body design and two D-shaped discs that rotate out of the way as flow enters the valve. It has good non-slam characteristics, but is not recommended for wastewater applications. It is also susceptible to vibration and wear.
Traditional Swing Check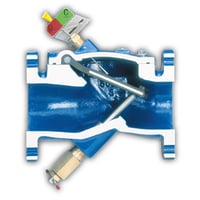 Everyone knows this one, right? It's definitely the most common check valve in water and wastewater applications. This type of valve usually has metal or resilient seats and a 60-90 degree swing. This valve has a tendency to slam, however, due to the long stroke, friction in the packing, and inertia of the disc.
Air cushions are sometimes employed to help alleviate the slamming. Though some believe that a lever and spring is a better accessory as they allow the valve to close faster.
Tilted Disc Check Valve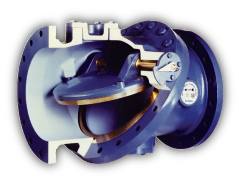 The difference between the tilted disc check valve and the traditional swing check valve is that flow is allowed to pass on both sides of the disc. Because of this, it allows for extremely low head loss.
This valve is not recommended for wastewater applications because pins that extend into flow stream tend to collect debris. Clean water or treated effluent are best for this valve.
Do you have the right type of check valve for your application? Could there be a better one? Always discuss changes to your pumping system with an engineer who is well versed in all types of check valves. They may be able to help you find a valve that slams less or could even be more energy efficient.
Not sure if you should change up your check valves? Ask us about it! We gladly provide technical assistance to businesses and municipalities in Wisconsin, Minnesota, Illinois, and upper Michigan.