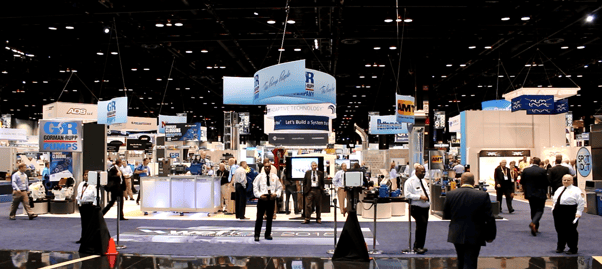 This week I had opportunity to attend the largest water and wastewater show in the world, WEFTEC 2015. Under the bright lights of the show floor, I was tasked with unearthing the latest and greatest technologies and design improvements to share with our followers. Here are the four best improvements/new technologies I found.
GORMAN-RUPP ERADICATOR

I saw the videos online and the brochure for this new product a couple of months ago, but it was awesome to see it in person. Gorman-Rupp had a working display in their booth, complete with glass faced Super T Series. I watched as Chris Suomi from Gorman-Rupp shoved everything from stress balls to plastic bags into the pump's suction line to demonstrate how the Eradicator clears debris from the impeller, not allowing it to gather and clog the pump.

The Gorman-Rupp Eradicator kit is available as an upgrade to existing pumps, or as an option on new pumps.

GORMAN-RUPP 6500 SERIES

There was no shortage of new product in the Gorman-Rupp booth. On Monday they also released a new line of horizontal end suction centrifugal pumps, the 6500 Series. Specially designed for wastewater treatment plants, industrial facilities, construction, mining, and agricultural uses, this series handles solids up to 4" at a high level of performance and efficiency.

The 6500 Series features oversized bearings, atmospheric vent, side access inspection port, indexable Smart Scroll® discharge locator, and a five-year factory warranty.
KUSTERS WATER PROTECHTOR PERFORATED PLATE FILTER SCREEN

Kusters Water has had a quality perforated plate filter screen for quite a while, but some new design changes are making theirs easier to maintain.

Adjusting the chain on screens is typically a real pain. But with the Kusters Water screen, you can adjust both the brush height and the tension on the screen chain simultaneously, or independently, making adjustments faster and easier than before.

CORNELL PUMP AUGER CUTTER

A few years ago, Cornell came out with the Cutter option on their pumps. They now have an Auger Cutter. The Auger Cutter is a more aggressive option that sweeps the area where the suction pipe meets the volute. It's meant for handling ragging, and more aggressive clogs and ragging.
WEFTEC 2015 was chock full of new equipment to see. These are just a few things I found. Were you at WEFTEC 2015? Comment below with technologies you found to be innovative or interesting. I'm interested to see what I missed!
Want to learn more about the technologies in this post? Ask us about it! We're happy to provide more information to businesses and municipalities in Wisconsin and Upper Michigan.