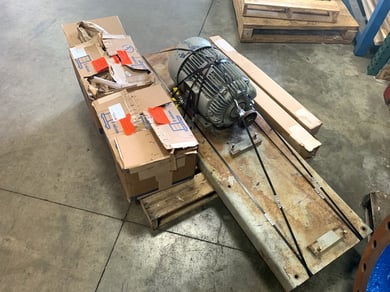 I received a call from one of our account managers the other day. He told me he was on his way to Kimberly with a pump that I just had to see. I met him in the receiving area to see what he brought back.
When he dropped the tailgate, I saw a pallet with a baseplate and motor, and miscellaneous boxes containing loosely packed parts. "What's this?" I asked. "This is what happens when companies trust the wrong repair shops to repair their pumps," he said.
The pump was a liquid propane pump that operates at pressures around 600 psi. It's a pricey piece of equipment that requires precision to maintain and repair. The pump was functioning when it was removed. The customer took the pump out of service because it had been running for about 5 years and they wanted to set up a planned maintenance program for this pump and other pumps like it in their facility. They wanted the repair shop to only take apart and inspect the liquid end, replace parts that needed replacing and document them.
However, after weeks of waiting for the pump's return, they were told that the pump could not be reassembled by the repair shop. It was returned to the customer in pieces. It was unclear if the shop returned all the pieces. The pieces were loosely packed into boxes and some were damaged during shipment. Due to the damaged parts and the amount of labor required to put this complicated pump back together, the job will likely become repair by replacement and cost the customer thousands more than the original repair.
I asked the account manager how maintenance managers could avoid finding bad repair shops the hard way. He shared 5 tell tale signs of a shady pump repair shop.
1. They also sell toilet paper and rubber boots
Does this company sell pumps? Do they also sell lots of random other items like urinal cakes and rubber gloves? That's a dead giveaway for a less than stellar repair shop.
The best repair facilities have a complete offering of pumps and other fluid process equipment, not janitorial supplies.
2. It's a one man band
Companies that are serious about repairing pumps are usually larger in size and have teams of at least 10 or more service technicians specializing in multiple fluid process applications. Shops like this tend to have more specialized equipment, like balancers, to ensure repairs are done to OEM standards.
3. No quality procedures
If you ask to see their quality procedure manual and you get a blank stare, there's your sign. The best pump repair facilities maintain quality process manuals and are audited by a 3rd party every other year or so.
4. No OEM Authorized Brands
This is a big one. Again, those who are serious about pump repairs are getting the seal of approval from manufacturers they work on most. Five authorized brands is good, 10 is even better, but if your service shop can't produce 1 it's time to reconsider the options.
5. The shop is far away
Ok, so being far away doesn't make it a shady repair shop, it's just risky to send a pump far away. Keeping it local or regional minimizes the transfers, handling, and chance for damage to the equipment.
Facilities that are serious about pump repairs often have local pick-up/delivery service and know how to properly handle this equipment for shipping.
Don't trust your pumps to just anyone. A simple PM may end up costing far more than what you bargained for. Instead, ask a few questions, do your homework. Make the decision based on the amount of value the pump repair shop adds to your team and your business, not just the cost of the repair. The result will be a professional repair that will last longer and won't be returned to you in pieces.