Pumps and boilers are challenging to work with. Condensate returning to the boiler feed pump is extremely hot, presenting safety issues, and with fluid so close to the boiling point, NPSH is of paramount importance. On the discharge side, the pressure generated from the pump must be enough to overcome the high pressure inside the boiler. Multistage centrifugal pumps are a popular choice for boiler feed applications, but what makes them the better choice?
All centrifugal pump curves show a decrease in pressure as flow increases. With single stage pumps, this means that a larger pump is needed to increase the pressure produced at a given flow rate. This results in the pump running further back on its curve. Multistage pumps do not run into this issue because the addition of stages to the same size pump allows the it achieve higher pressures.
The first curve shows a multistage designed pump with a single stage installed. The highest achievable head is 40 ft when the flow is 50 GPM. The second pump curve shows the same pump with seven stages installed; now the head developed is 300 ft when the flow is 50 GPM.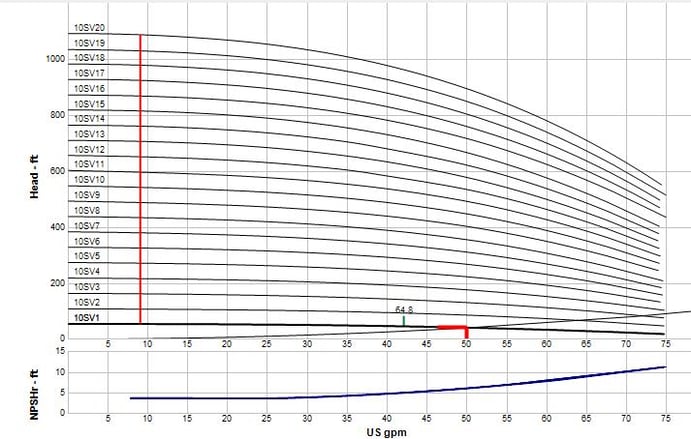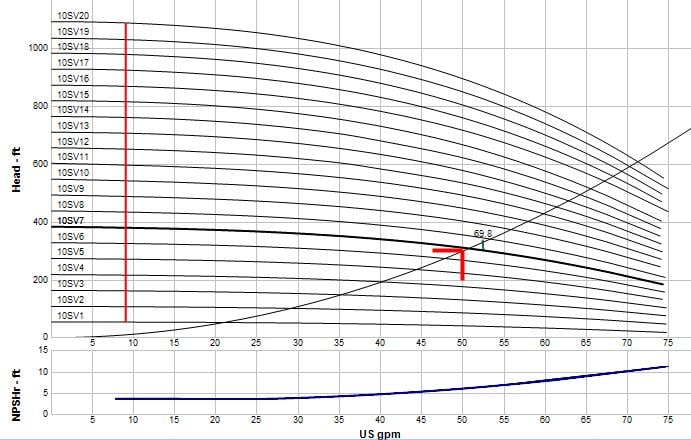 Multistage centrifugal pumps are designed a few different ways, horizontal, vertical, and the less common regenerative turbine pump. How do you choose which design is best for your application? Both styles will get the results needed, but if space is at a premium, the vertical multistage pump is probably the way to go.
More importantly than vertical or horizontal, be sure to understand the demands that will be put on the pump. For instance, a heavy industrial application would require a cast pump body, like the Goulds 3355. Alternatively, with lighter industrial applications, a pump with a stamped body, like the Goulds Water Technology e-SV, is suitable and lower cost.
Proper pump selection is critical in boiler feed applications. If you're not sure, get an experienced engineer involved to ensure all requirements have been met.
Need help with a boiler feed application? Ask us about it! We gladly provide technical assistance to businesses and municipalities in Wisconsin and upper Michigan.