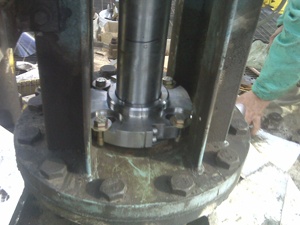 When a machine leaks oil, you know it's bad news. It's no different when it comes to industrial mixers. Our Service Team says when mixers are sent to us because they're leaking oil, it's usually because the seal is worn.
What could possibly be causing the seal to wear?
Here's a quick list of things to check before you call in someone to service it.
Dirt or Grit in the Seal

Dirt is the enemy for seals. The seal may just need to be cleaned, or it may need complete replacement.

Overfilled Reducer

There is such a thing as too much of a good thing. Too much lubrication leads to higher operating temperatures and seal failure. You can read more about it in this post: "The Truth Behind Lubrication and Over Greasing". Then, check the lubricant level and adjust it to the recommended level.

Clogged Autovent

The autovent, or breather plug, allows steam and hot air to escape from the gear case. When dirt or grit gets into the autovent, it gets clogged and doesn't allow the seal to function properly. The reducer then has potential to overheat. Clean or replace the seal, being sure to prevent any dirt from falling into the reducer.

Improper Mounting Position

Always make sure the mixer is mounted the way it was intended to be. Check the mounting position against the approval drawings.
Still leaking oil? It might be time for some more serious repairs. Ask your service technician to help get to the root of the problem. Once the oil leakage is prevented, you will continue to get top performance from your industrial mixer.
Want to learn more about industrial mixers? Download our free guide to Mixing & Agitation by clicking the image below.