Resins are used in a wide range of manufacturing applications. They can be used for pressure sensitive adhesives, floor and carpet backing, and even paint to ensure it turns into a solid when spread into a thin layer. But no one said resin is easy to work with.
Resin has a propensity to harden when spread into a thin film, and its highly viscous properties make it a challenge to pump. But with a properly selected gear pump, industrial resin can be handled effectively and efficiently.
Resin – Factors To Consider
For purposes of pump selection, viscosity of the resin is probably the most concerning. Depending on the particular resin or mixture, the viscosity may vary from a thin syrup to a solid; thus, some resins must be put into solution or heated before they can be pumped.
Pumping temperatures from outdoor ambient to above 400F° can be expected when working with resins. Most are not aggressive in terms of corrosion, nor are they considered abrasive. They typically have a specific gravity in the 0.9 to 1.2 range.
Pump Recommendation – A Starting Point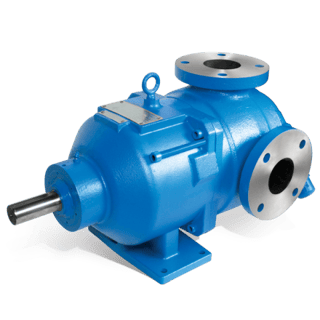 Rotary gear pumps have impeccable ability to handle viscous fluids and high pressure, making them a top choice for resin applications for many years. Gear pumps are available with many different features and material options. Every application is different, but the following points should get you started in the right direction:
Stainless Steel Construction – The majority of resins are adequately handled with iron pumps, however some will cause mild corrosion. A stainless steel pump will eliminate any contamination.
Double Mechanical Seals – Shaft leakage is not acceptable when pumping resins. Since resin is expected to become a solid when spread in a thin film, any leakage through the stuffing box is going to harden, and may cut the shaft, developing a significant problem.
Double mechanical seals are recommended because they prevent vapor loss, and are better suited for viscous fluids than single mechanical seals.
Suckback – A suckback helps to reduce the pressure in the liquid chamber adjacent to the stuffing box. A suckback reduces pressure without upsetting the pressure balance in the pump. Read more about the importance of suckbacks here: What Is A Suckback On A Gear Pump?.
Magnetically Coupled – Mag drive pumps are leak proof by design. They are not coupled to a motor directly via a shaft, instead using drive and driven magnet to turn the rotor/stator.
Because there is no packing, or mechanical seal, one can avoid the headaches that come with maintaining them. Mag drive pumps are a cost efficient and environmentally friendly option.
Keep in mind, however, mag drive pumps do not do well in high temperature applications. Read How Temperature Affects Mag Drive Pumps for more on this topic.
Optional Features – Depending on the resin used, one might consider the following: relief valve, jacketing, oversized ports, carbon bushings.
If you're unsure about which features you should have for your application, definitely talk to an engineer before purchasing a pump. They should do a thorough review of the suction and discharge piping system in order to provide you with a solid recommendation. An engineer should also be able to help you weigh the pros and cons of features you need, and help you steer clear of features you don't.
Not sure which gear pump you need? Ask us about it! We gladly provide technical assistance to businesses and municipalities in Wisconsin and upper Michigan.