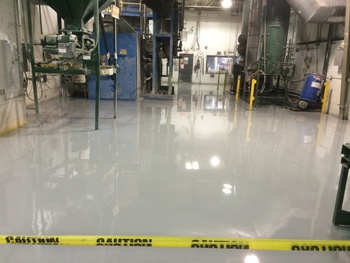 Starting a new epoxy floor coating project? There's a lot of things to consider, such as condition of the concrete, expected traffic, and chemical exposure. These factors will help you determine one of the most important components of flooring selection, its thickness.
Epoxy thickness ranges from .2 mils to 250 mils (1/4") or thicker. Three main factors determine which thickness is right for your application.
Condition of the concrete—The level of damage that the concrete has sustained will play a major factor when determining how thick the epoxy floor coating should be. If there are large cracks in your flooring, chances are you will need a thicker coat of epoxy whereas newly constructed concrete may only require a thin coating.
Traffic

—

High traffic areas require a thicker epoxy coating. If you are consistently running heavy equipment through the area, you will probably want a thicker coat of epoxy to help protect the concrete below. If you're coating a hallway with light foot traffic, you can cut some cost with a thinner coat.
Chemical exposure— Many of the companies use a variety of chemicals in there every day work. Whether it is from cleaning the floors or the chemicals used to produce their products or complete a task, it can play a significant role in thickness level that is right for your company. Take a look at How a cheese maker dealt with concrete erosion and corrosive chemicals.
How Thick Should Your Epoxy Coating Be?
A thin epoxy coating is great for lower traffic areas, where maintenance people want to increase aesthetic appeal and make their floors easier to clean. Thin epoxy coatings are quick and easy to install too.
On the other hand, a thick epoxy floor coating is best for concrete floors that are heavily damaged or eroded. They can handle the traffic from heavy equipment, and will last a very long time. They do require more preparation and installation time, however.
Not sure what you need? Ask us about it! We gladly provide technical assistance to businesses and municipalities in Wisconsin and upper Michigan.