From adding flavors in food and beverage applications, to mixing chemicals for cleaning solutions, to filling bottles of cosmetics, gear pumps are a part of many important manufacturing processes. They are used in a wide variety of applications, so how will you know if a gear pump is the right fit for your process? Let's go over some recommendations for when you should use a gear pump.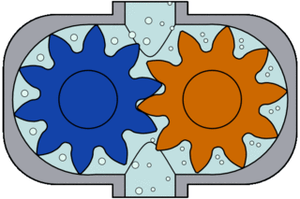 First off, it is important to know what we're dealing with here. Gear pumps are a type of positive displacement pump, meaning they pump a constant amount of fluid for each revolution. Because of this, they are ideal for metering jobs in many different industries.
A few typical applications involve the addition of chemicals to flow processes, packaging and dispensing in the food and beverage industry, injection of paint pigments in the paint industry, metering asphalt onto roadways during road construction and the metering of precise amounts of viscose in the manufacturing of casings for food products including sausage, bologna, etc.
A gear pump can be used in many industries including chemical and petrochemical, pulp and paper, pharmaceuticals and cosmetics, food and beverage, daily, paint, rubber, and plastics. However, gear pumps aren't right for every metering application. Before proceeding with a gear pump, review these nine recommendations.
Determine if metering accuracy requirements are realistic. Unnecessary and extreme accuracy specifications may rule out many economical solutions to the metering problem.


Consider all possible conditions under which the pump may be required to perform. It is very difficult and expensive to rectify problems resulting from application conditions which have been minimized or overlooked.


Minimize differential pressure to reduce "slip". Short, ample sized suction and discharge lines with a minimum number of fittings, vertical suction lift and discharge head are helpful here. Be sure there is sufficient Net Positive Suction Head Available (NPSHA) to avoid cavitation under all operating conditions. Reduce pump speed for high viscosities in accordance with established practices.


Carefully consider applications which require very slow operating speeds with respect to the gear pump's normal operating speed. At extremely slow speeds, "slip" becomes an increasingly large proportion of deviation from the expected theoretical flow to the detriment of metering accuracy.


In discussing possible applications, be sure to point out that the pump is being considered for a metering job. Frequently it is desirable to forego "extra clearances," normally applied to pump parts for high liquid viscosity, at the expense of slightly higher drive horsepower requirements in the interest of greater metering accuracy.


Consider the long term effects of abrasive or corrosive wear on the pump's internal parts.


Carefully consider metering applications that involve elevated temperatures that require the use of "extra clearances" within the pump. Frequently, high temperature metering applications feature a very low fluid viscosity. If substantial differential pressure is present, the "slip" factor must be carefully considered to make a satisfactory recommendation and application.


Consider the accuracy of speed variation and repeatability of the type of drive used to power the pump. Obviously the pump cannot be more accurate than its drive.


Follow recommended mounting and piping practices. In spite of rugged construction, mounting and piping strains upon a pump casing can have serious effects upon the pump's ability perform satisfactorily.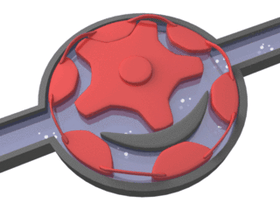 If you think your application could benefit from a gear pump, get in touch with us. We stock and supply gear pumps from top manufacturers like Viking Pump. Crane Engineering is Wisconsin's oldest and largest distributor of Viking Pumps. We're also happy to provide technical advice, expert sizing and selection, and precision repairs.
Looking to learn more about metering applications with gear pumps? Read our Quick and Dirty Guide to Gear Pumps article or download our free Metering with Gear Pumps eBook by clicking the image below.