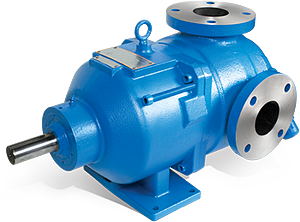 Do you know your self primer from your submersible? Your vertical turbine from your vertical multi-stage? With so many different types of centrifugal pumps out there, it's important to know which are the right ones for your application. In this post, we'll discuss the best applications, advantages, and disadvantages of magnetic drive pumps.
If you want to learn more about the different types of centrifugal pumps, be sure to download our "Must-Have Handbook For Centrifigal Pumps". This handbook covers 9 different types of centrifugal pumps, as well as some basic centrifugal pump terminology.
But I digress... bring on the mag drives!
Best Applications for Mag Drive Pumps
Magnetic drive pumps are best applied in situations where leakage poses a threat to employees or the environment (combustible, or corrosive fluids for example).
They are also good for tough to seal applications. Some fluids undergo chemical reactions (crystallization, sticking, varnishing) when the liquid is exposed to heat or air. A magnetic drive pump, with it's entirely sealed containment canister (instead of a stuffing box), will prevent these three elements from coming together.
Advantages
There are a number of advantages that come with the removal of seals from the equation. First, the risk of leaks from the sealing mechanism is eliminated, so hazardous fluids can be pumped without worry of spillage.
Cost advantages also exist without seals:
No maintenance costs for replacing and maintaining seals
No downtime and lost production on account of seal maintenance
Avoid potential fines for leakage from EPA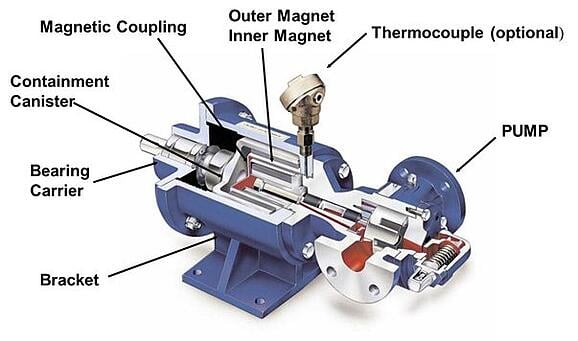 Disadvantages
Magnetic drive pumps only work with clean liquids that have no suspended solids. They are also typically more expensive than sealed pumps (though the additional cost may offset when factoring the cost advantages listed above... think "total cost of ownership!").
If you're considering using a magnetic drive pump for your application, be sure to talk to an experienced engineer first. Educate them about your system and your needs. They'll be able to confirm if a mag drive pump is best for you.
Need help selecting a centrifugal pump? Ask us about it! We gladly provide technical assistance to businesses in Wisconsin and Upper Michigan.