We've published 116 blog posts this year, a new record! Which ones did you find the most useful? Let's break down the most popular posts of 2017, in case you missed them the first time around.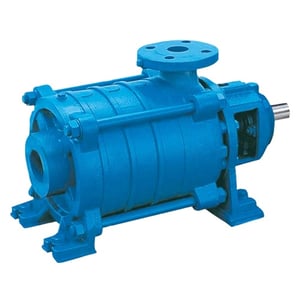 Multistage centrifugal pumps have been one of the most popular types of pumps in recent years. Their ability to provide engineers with a flexible range of flow and head, along with their high degree of energy efficiency makes them a great choice for many applications. Could they be right for yours?
If you have basic valve knowledge, you are probably familiar with ball valves – one of the most common types of valves available today. A ball valve is typically a quarter-turn valve with a perforated ball in the middle to control flow. These valves are known for being durable with excellent shutoff, but don't always offer very precise control. Let's talk about when it's okay to use a ball valve as a control valve.
Choosing the wrong type of valve can be detrimental to your operation. There are a few different types of butterfly valves on the market, including the zero offset, double offset, and triple offset. I enlisted the help of Scott Telin, one of Crane's application engineers and a member of our valves team, to help differentiate between the three offsets. Click here to keep reading about the differences.
Centrifugal pump impellers are selected with purpose and are dependent upon the application. Some are better for solids handling, others are better for high efficiency. See the full blog post to find out which type of impeller will be best for your next pumping application.
#5 -

WHAT IS A CENTRIFUGAL PUMP MINIMUM FLOW BYPASS LINE?
Centrifugal pumps rely on fluid to keep cool and lubricated while operating. They also rely on the fact that discharged fluid has somewhere to go. But what if the process dictates it needs only a fraction of the pump's minimum flow requirement? What if there's a closed valve downstream? What happens when a pump's basic hydraulic needs are no longer met?
---
Even though these were the five most popular posts, we published a hundred other great posts answering your questions! We're working some awesome how-to posts and real customer stories for 2018. Make sure you don't miss a single one, subscribe to Crane's Fluid Connection and get the latest posts delivered straight to your inbox. Happy New Year!