In many process applications, it's necessary to control the speed of a pump. Controlling speed protects the pump from premature failure and can greatly reduce energy consumption. Previously, in order to do this effectively, it was necessary to implement a barrage of wires and sensors on pipes and pumps to measure flow and transmit the information back to the motor.
About 15 years ago, sensorless technology came onto the scene. Some engineers love it, others not so much. For this post, I reached out to Adarsh Iyengar, ITT's Global Director for Monitoring and Control, to help understand the pros and cons of this technology.
Why Sensorless Pump Control?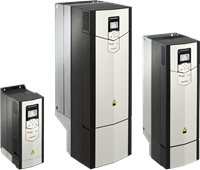 Why is sensorless pump control necessary in the first place? Clearly, external sensors were a proven technology and worked well for a number of years. So why change? Adarsh explained there are both financial and application benefits to utilizing sensorless pump control, like the ITT PumpSmart PS220, versus external sensors.
In most new installations, sensorless pump control technology is less expensive. With the elimination of sensors, wiring, and periodic calibration of the sensors, overall installation costs are reduced.
Additionally, there are processes where the installation of external sensors is a challenge due to corrosion, plugging, etc. Applications such as pumping asphalt or bitumen are good examples. In these cases, sensorless controls allow operators to automatically right-size their pumps, reducing energy consumption and wear and tear on process systems.
Sensorless pump controllers respond faster to changing process conditions than external sensors. The primary reason being that sensorless control typically utilize power and torque response, which is faster than traditional instrumentation feedback. Sensorless technology offers better diagnostic and control features as well, such as the intelligent sleep function in the ITT PumpSmart PS220.
Challenges of Sensorless Pump Control
Sensorless pump control does have its difficulties, however. In order for the variable speed drive or alternate control equipment to do its job, it must be properly installed and set up. It's not complicated to do, just requires a few more steps than traditional sensors.
Sensorless pump control could also prove challenging if the liquid properties vary widely during the process, or if the properties are unknown.
Some operators report sensorless controls as being less accurate than external sensors.
With increased focus on energy conservation, and reduced downtime, more intelligent machines are quickly becoming the norm. As technology and accuracy continues to improve, expect sensorless pump control to become even more widely accepted in pumping systems.
Got a question about sensorless pump control? Ask us about it! We gladly provide technical assistance to businesses and municipalities in Wisconsin and upper Michigan.