A filter or strainer that cleans itself? Yes, please! In a previous post, we talked about 5 Filtration Technologies You Need To Know and self cleaning filters and strainers were one of them. These filters are handy because they essentially clean themselves, providing operators with less maintenance requirements and worry-free operation. In this post, we'll give a brief introduction to the different self cleaning filtration options on the market today.
MECHANICALLY CLEANED FILTERS (DCF/MCF)

Eaton's DCF-Series is a common self-cleaning filter option and is one that we frequently recommend. The DCF-Series consists of a cylindrical steel housing that contains a filter screen. Unfiltered liquids enter the inlet and solids are deposited onto the interior surface of the filtration media, then fluid exits at the outlet. Eaton's DCF-Series is ideal for highly viscous, abrasive, or sticky liquids and operates at a consistently low differential pressure. Mechanically cleaned filters are a simple solution with the operator in mind. They're known to dramatically reduce product loss, require minimal operator intervention, and improve flow consistency.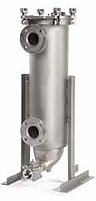 On the other hand, Eaton's MCF-Series uses magnetically coupled drive technology to move a disc that physically scrapes away material that builds up on the interior surface of the strainer cartridge, forcing the contaminates to the purge chamber at the bottom of the housing.
Using mechanically cleaned filtration units (DCF or MCF-Series) is beneficial in the following ways:
Purge volume is relatively low, minimizing product waste

Long-term reliability and low cost of ownership because there are very few moving parts

Work well for water-like fluids, slurries, and viscous fluids



You'll commonly find these filtration units used in paper coating applications, hot fry oils, lime slurries, adhesives, paints, chocolate, edible oils, and many more making them a versatile solution.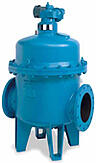 MECHANICALLY CLEANED STRAINERS
Automatic, self cleaning strainers are used for straining cooling water from ponds, lakes or rivers, cooling towers, boiler feed water, and etc. These strainers are known to provide years of worry-free operation and a continous flow. Manual strainers are very costly to service and clean due to the sheer frequency of these requirements, but automatic strainers significantly reduce these maintenance costs and can replace simplex or duplex manual strainers.
Mechanically cleaned strainers are found in all types of industries, including process, power, pulp and paper, sewage and water treatment plants, and much more.
TUBULAR BACKWASHING FILTERS

Tubular backwashing filters often replace bag or cartridge filters because they are self cleaning, eliminating costs associated with disposable bags and cartridges. They're specifically designed for high flow rate applications requiring small particle size retentions (as low as 1 micron). What's even more exciting is that fully automated cleaning eliminates operator involvement. The backwash sequence is initiated when differential pressure reaches its set point. At this point, the fluid is reversed, dislodging debris that has built up on the surface of the filter media. The base of the filter provides an outlet for debris to be purged from the system.
Tubular backwashing filters are beneficial in the following ways:
Conserves valuable process product

Protects expensive, difficult-to-service downstream equipment

Improves process throughput and efficiency

Requires minimal operator intervention for improved safety and reduced staffing needs
You'll most likely find these units installed in city water lines, hot condensate applications, chiller water, CIP, papermaking wet end starch, etc. Similar to the DCF and MCF-Series filtration units, tubular backwashing filters are a versatile solution for multiple industries.
Don't miss the "Introduction To Self Cleaning Filters" tech session at the Crane Engineering Tech Expo on Thursday, May 14! This session is for operators looking to learn more about self cleaning filtration media. Register today!