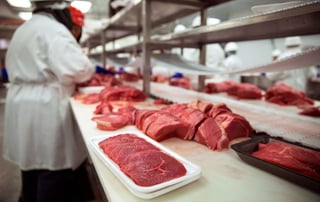 Water usage just kept climbing, and it was starting to get really expensive. The food production plant was racking up excessive charges not only on the water coming into the building, but also the wastewater going out. Facilities engineering was able to track down the source of their excessive water consumption to their water booster system.
The system provided the high pressure needed for sanitation, production, and wastewater treatment. It was critical to have the water booster system fully functional and delivering the correct pressure and flow where it was needed to achieve the food plant's sanitation goals.
But leaks in the system and increased demand due to expanded production caused a lot of excess stress on the system's pumps. It was originally designed to run with only one or two of its three pumps, but instead, all three were consistently running. But even with all three pumps running, it was difficult for them to keep up.
On top of all that, the pumps were old and obsolete. They were tired, unreliable, and nearly impossible to find parts for. The Maintenance team never knew when one was going to go down, and when it did, they were really in a jam.
The maintenance manager realized this system was costing too much. The excessive water and energy usage, plus the downtime that came with frequent pump repair caused him to call on Crane Engineering Account Manager, Mike Baxter.
The Maintenance Manager expressed his concerns about the pumps' reliability, how much water they were consuming, not to mention the excessive power consumption caused by running so many pumps at one time.
Baxter assessed the current system to see if any of it could be salvaged, but it was clear that in order to achieve the best results, a completely new system would have to be put into service. The new system would be implemented with the goal of increasing pump reliability, reducing power consumption, and would also include a way for the maintenance team to monitor water consumption 24/7 to track usage and help locate major leaks.
With the Facilities Engineering group on board, as well as the Corporate Engineering group, a new water booster system was designed. Having the system designed into a skidded package helped them quickly implement the new system within a short window. Production could not run if they didn't have a means of sanitation available.
After the new system was implemented, the benefit was quickly recognized. Power consumption was reduced by over 50% since the new system was not only designed to run with only one or two pumps, but with smaller motors too. There was plenty of water at the desired pressure to meet the demand, and uptime was at 100%.
If your water booster system over-consumes water and energy, resist the urge to employ stopgap measures. Instead, review your current and future needs and design and plan accordingly.
Want to know how much energy you could be saving with a more efficient water booster system? Download this helpful Excel calculator.