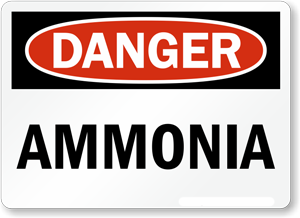 Two large steel tanks loomed outside a Wisconsin based chemical manufacturer. For about 50 years, these tanks housed the ammonia needed for the plant's manufacturing process. Over time, the use of ammonia in the plant greatly decreased, making the need for these tanks obsolete. It was decided that the tanks needed to go, and in their place, a single polyethylene tank would be employed.
The Maintenance Manager had a containment wall built around the new tank using the existing concrete floor below, but a challenge quickly presented itself. The floor of the containment area pitched to one side, allowing rainwater, and ammonia from incidental spills (from nozzle leaks or tank refills) to puddle in the corners.
Aqua ammonia is a potent chemical that erodes concrete and other porous surfaces. If left unchecked, over time it could eat holes through the containment wall. Should the tank crack and fail, the containment area wouldn't contain anything at all.
Because the Maintenance Manager worked with Crane Engineering in the past to seal other concrete areas, he gave his contact a call to see if he could eradicate his puddle problem.
After assessing the containment area, a member of the Crane Engineering Corrosion Resistant Products team proposed a solution. The floor would be pitched using a vinyl ester grout so the liquids ran towards the sump instead of the corners. Then the walls were lined, and the floor received multiple layers of vinyl ester. To seal the area and prevent the containment area from leaking through the seam between the walls and floor, a final vinyl ester top coat was applied.
As a result the containment area drains properly, and is protected from the occasional ammonia contact. All to be certain that in the event of a larger spill, it can do its job and keep the people and property around it safe.
Have concrete that regularly comes in contact with corrosive or erosive chemicals? Ask us about it! We may be able to recommend a solution to correct it.