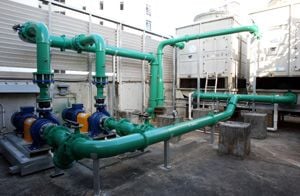 Many pumps are installed with inappropriate piping arrangements, resulting in premature pump failures as we covered in our latest eBook, 36 Ways to Kill Your Pump. If you were installing a pump in a new system, where would you turn for guidelines on proper pump piping arrangements?
Knowledge and resources are extremely limited on this topic, except what you may find in the Installation, Operation and Maintenance (IOM) manual (which is minimal). By following 5 simple rules, you can avoid premature pump failure and related pump piping pitfalls.
KEEP SUCTION PIPING AS SHORT AS POSSIBLE

Include a straight run pipe length equal to 5 to 10 times the pipe diameter between the pump inlet and any obstruction in the suction line. Note: Obstructions include valves, elbows, "tees", and etc.

Keeping the suction piping short ensures that inlet pressure drop is as low as possible. The straight run pipe gives you a uniform velocity across the pipe diameter at pump inlet. Both are important to achieving optimal suction.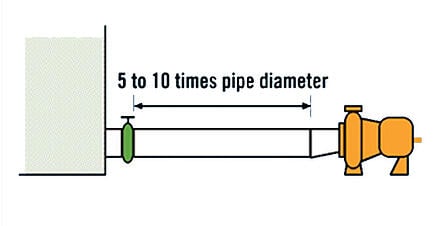 PIPE DIAMETER ON SUCTION SIDE SHOULD BE EQUAL OR ONE SIZE LARGER THAN PUMP INLET

Suction piping velocities should be limited to 7 to 8 feet per second or less.
ELIMINATE ELBOWS MOUNTED ON OR CLOSE TO THE INLET NOZZLE OF THE PUMP

Include 5 to 10 pipe diameters of straight run pipe between the pump inlet and elbow. This helps to eliminate "side loading" of the pump impeller and creates uniform pump axial bearing loading.
ELIMINATE POTENTIAL FOR AIR ENTRAPMENT IN THE SUCTION PIPING

Maintain adequate levels in supply tanks to eliminate vortices from forming and air entrapment.
Avoid high pockets in suction piping, which can trap air
Keep all pipe and fitting connections tight in suction vacuum conditions to prevent air from getting into the pump.
ENSURE THE PIPING ARRANGEMENT DOES NOT CAUSE STRAIN ON THE PUMP CASING

Pumps should never support the suction or discharge piping. Any stress on the pump casing by the piping system greatly reduces pump life and performance.
Keep in mind that increasing the performance of the pump will help to make up for piping mistakes made on the discharge side of a pump. Problems on the suction side, however, can be the source of repetitive failures, which could cause problems for years to come if not addressed appropriately.
Piping design is an area where basic principles are frequently ignored, resulting in increased vibration and premature failure of the seals and bearings. Incorrect piping has long been disregarded as a reason for these failures because of the many other reasons this equipment can fail. Many experienced engineers may argue that pumps with incorrect piping still function and operate as they should. This argument, although valid, does not make questionable piping practices correct.
**Post adapted from an article by Ross Mackay, Pitfalls of Pump Piping.
Contact us today with your questions about correctly installing and piping a pump! Our engineers are happy to provide assistance to businesses in Wisconsin and upper Michigan.