For many years, the Gorman-Rupp T-Series was the go-to self-priming pump. It was so popular, in fact, that copycat manufacturers began manufacturing their own versions of the T-Series.
They say, "necessity is the mother of all invention", and in order to survive in the pump market, Gorman-Rupp took their Classic T-Series design and made major improvements, eventually bringing the Super T-Series to market.
So what's the big deal? Here's why you shouldn't replace your Gorman-Rupp Classic-T with another one, and instead, take a hard look at the Super-T version.
Impeller to Wear Plate Clearance Adjustment
In the Classic T-Series® the adjustments take place through insertion of shims between rotating assembly and volute casing.
The Super T-Series® has an external shimless and indexable adjustment through a unique locking collar design.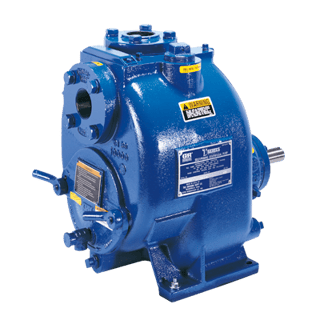 Coverplate
The Classic T-Series® has a two point attachment with single O-ring at the outer bore.
The Super T-Series® coverplate has a four point attachment with additional O-ring between vacuum and pressure chambers.
Coverplate Removal
The Classic T-Series® has a cover that must be pried from the volute with pry bars.
The Super T-Series® has an easier process. A grip handle has been added as well as pusher bolt holes to make removal easier.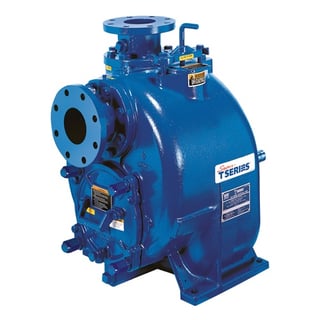 Atmospheric Isolation
With the Classic T-Series®, a single lip seal with a vented pipe plug is included.
The Super T-Series® Double lip seal with atmospheric barrier allows for external monitoring.
Seal Oil Monitoring
In the Classic T® series, the seal chamber vent plug must be removed to monitor seal oil.
In contrast, The Super T-Series has a clear sight gauge.
Rotating Assembly Removal
To remove the rotating assembly with the Classic T-Series®, pry bars are required.
In the Super

T-Series®

, removing the rotating assembly is eased by pusher bolt capabilities.
Volute Casing Heater
In the Classic

T-Series

® a heater probe can be inserted into an optional service tee in pump drain port.
In the Super T-Series®, a discreet heater port permits heater insertion into discharge side of volute.
Many design improvements were made to the Classic T-Series design to bring forth the Super T-Series. As with all fluid process technology (pumps, valves, filters, etc.), before replacing aging equipment with more of the same from less expensive replicating manufacturers or a direct replacement, look for design improvements from the OEM. Odds are they've invested in new features that can make your life easier.