Do you know which pumps in your facility require priming? Which are self-priming? If you don't, starting a pump means you're taking a pretty big chance. Don't be the one that guesses wrong. Read on to find out why priming is important and which pumps will require it before getting started.
Priming the pump readies it for use. A pump's casing must be filled with fluid before starting. If not, the pump will be unable to function. If vapor or gas exist inside the casing, the pump will become gas bound, and won't pump. Priming is the action of filling the casing with fluid before startup.
Centrifugal Pumps
Priming is an important aspect in maintaining the functionality of a centrifugal pump. Water or the fluid pumped acts as a coolant, preventing the pump from overheating. Failing to do so causes the pump to run dry, causing mechanical seal failure, and serious damage to pump components.
Depending upon the piping configuration, a pump may not need manual priming. A flooded suction condition is when the suction port on the pump is lower than the liquid level pumped. In this configuration, the pump is already filled with fluid and is considered primed.
When the liquid level is below the suction port, priming becomes more difficult. This is where having a pump with suction lift capability is important. Pumps such as the Gorman-Rupp T-Series are well known for this. Check out this video from Gorman-Rupp that explains how self-priming pumps prime.
Positive Displacement Pumps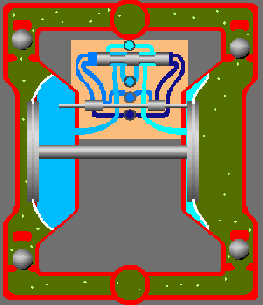 Though it depends upon the pump and application, a positive displacement pump, is generally a self-priming pump. This characteristic allows for flexibility in system layout and eliminates the need for suction priming systems.
For instance, air operated diaphragm pumps self-prime by creating a pressure differential in the diaphragm chamber. This draws in air and pulls the fluid into the suction port.
Positive displacement pumps also have excellent suction lift capabilities.
In short, to avoid failures, centrifugal pumps must always be primed before operating. Positive displacement pumps are self-priming with suction lift capability, but always check the operation manual or confer with an engineer to ensure the pump will properly function at start up without priming first.
Is your pump not priming? Ask us about it! We gladly provide technical assistance to businesses and municipalities in Wisconsin and upper Michigan.