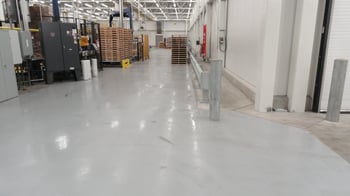 Floor coatings are designed to be durable, resistant to chemicals and corrosion, while keeping your facility looking good. Though they're tough, they're not indestructible.
Just like equipment, they require some preventative maintenance. The combination of dirt, debris, heavy traffic, and abrasion can cause floor coatings to break down faster, so to keep your floors in like new condition for as long as possible, follow these 6 tips.
Curing

If you've recently had a fresh coating applied to your floor, give it enough time to completely cure before really giving it the business. High performance coatings may take up to about 14 days to fully cure. During the initial two weeks, be cautious, and watch out for potential chemical spills and stains, and abrasive applications.

Sweep Daily

Dirt and debris are the enemy! Use brooms, dust mops, or a power sweeper with a soft bristle brush to keep floors clean. If you're using a power sweeper, don't run the sweeper power heads while idling in one position.

Scrub Weekly

Floors should be scrubbed at least once a week, or as required by conditions. It is important to use the recommended chemicals for your coating type, and to change the solution as often as necessary. If your floor is brand new, allow at least 7 days to cure before the first scrubbing.

Clean Spills Immediately

Cleaning up spills immediately will keep the spill from spreading to a larger area and potentially staining.

Repair ASAP

If you notice chips, gouges, cracks, or scratches, repair them as soon as possible. Not doing so opens the door to more damage, and a more expensive fix.

Prevention

Prevent damage from happening in the first place. Instruct your employees to avoid the following:

Dragging or sliding heavy equipment the floor surface
Dropping sharp or heavy items
Spinning or pivoting motorized wheel tires
Stiff or abrasive power bristle heads
Using cleaning chemicals that are not recommended for the floor surface.
Floor coatings will stand the test of time as long as they are properly cared for. Put together a good program with your group to ensure it's cared for during daily use and routine cleaning.
Floor coating showing its age? Ask us about it! Our Corrosion Resistant Products team gladly provides assistance to businesses and municipalities in Wisconsin and upper Michigan.