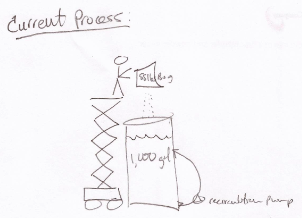 It was a chemical blending recipe for disaster.
To blend a batch of chemicals in this plant, employees used a scissors lift to take 500 – 55 pound bags of powder to the top of a large tank where they would be opened and emptied. Realizing that this was a disaster waiting to happen, the Plant Engineer at this particular chemical manufacturer decided it was time to find a solution that would be safer for employees, and could potentially improve the process too.
The Plant Engineer called his account manager at Crane Engineering.
When the account manager arrived to assess the situation, the Plant Engineer explained his safety concerns, then went on to further describe the process of producing the batch. Once employees added the powder to the tank, an external pump would recirculate the fluid, pulling from the bottom of the tank, and replacing at the top. An electric immersion heater was also added to help aid the dissolving of the powder. This system produced a very slow blending effect, so slow in fact, it would take 72 hours to produce a single batch.
Therefore, the goal for the project would be for employees to be able to add the powder on the ground level, and also provide a satisfactory blend for both 1,000 gallon and 5,000 tanks.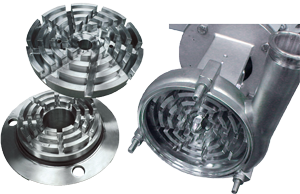 It wasn't long before engineers back at Crane Engineering found a solution. A blending and pump system would allow operators to add powder in a hopper at the ground level, while the dual function chemical blending pump would recirculate the fluid in the tank. This particular pump had a specialized impeller with teeth on the outer diameter, that would impart high shear on the product.
The account manager did some calculations to find out what cost savings could be realized. He found the following:
Production time would be SIGNIFICANTLY reduced. From 72 hours to 34 minutes. A 99.21% reduction in production time!
Heating costs would be reduced due to the pump imparting high shear on the chemical, reducing the dissolving time
Power saved on the pump due to a shorter run time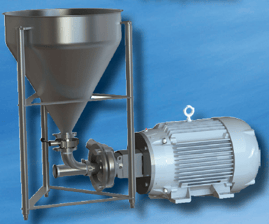 The manufacturer got on board with the system and was impressed by the speed and blend quality, not to mention thrilled with leaving the scissors lift out of the process.
The manufacturer has since purchased a second system.
Is it time to re-evaluate a mixing bottleneck in your process? Talk to an engineer experienced in a variety of mixing and blending applications. They can help you select the right technology to save the most time possible in your batch processing.