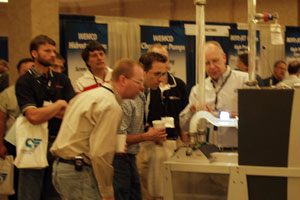 Want to have a memorable impact on attendees at Tech Expo? Bring a product to demo. If you weren't planning on bringing a live demonstration this year, here are 5 reasons why you should.
MAKE THEM BELIEVERS

There's always a bit of skepticism in the mind of the consumer when you tell an attendee about how your products are better than the competition. What better way to erase that skepticism than to show them that it actually DOES perform better!

DRAW MORE TRAFFIC

Motion and sound draw people to you. Action in a trade show booth is always more appealing than the guy sitting behind the table with a pile of literature. Give people a reason to stop and see what's going on.

INTERACTIVITY MAKES IT STICK

The best demonstrations are hands on. When people are engaged, they remember. Not to mention they will be more likely to believe your claims, as they experience for themselves.

DELIVER A UNIQUE EXPERIENCE

People can learn anything they want to from behind a computer screen. It's our job (and yours) to deliver an experience at Tech Expo that they won't get at their desks. Seeing a real working demonstration is one way to deliver that unique experience.

ATTENDEES ASKED FOR IT

Every year we ask our attendees for feedback on Tech Expo. We always get a number of comments requesting more equipment. Give 'em what they want! Let them get hands on and see your equipment in person!
Got an idea for a demonstration at Tech Expo? Be sure to let us know about it so we have everything you need (power, water, space) to execute it.
Have you registered for Tech Expo yet? If not, click the button below to get your booth space today.